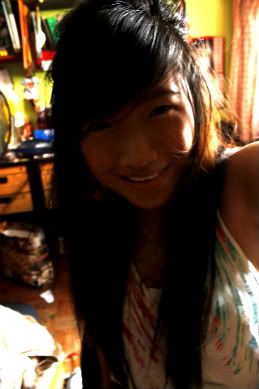 What if this never existed.
What if- I just keep asking myself.
Zy is finally out from torture! (: He actually came back on 6 Aug(Thurs) instead of 7 July(Friday). Few days before he came out he kept asking me what time i'll be home after school on Thurs, where i'll be going, my tuition time, what time i leaving etc. His questions sparked some suspicion. Lol. I figured he was coming out on Thurs. But on the actual day itself he used his friend's phone to text me. So it kinda crushed me tt maybe after all, he ain't coming out. Upon reaching home, i received a call which seemed like a house number. Initially i didn't wanna pick it up. Thank God i did cause it was him. & He asked if i was home yet & when i said yes, he said he had to go. I was like.. 'Huh so fast?'. Then it confirmed my suspicion tt he was out alr. HAHA. & Yes, he surprised me! I was so excited to see him! (((: Hee. He looked really cute & different & toot. Hugged him real tight the moment i saw him. & He was actually in my house alr when i was still in school. He thought i was home alr. So sweet of him (: He used the club house number to call me. Really glad to see him after 2 long torturing weeks ((: Missed him real bad.
& I baked him a chocolate cake (: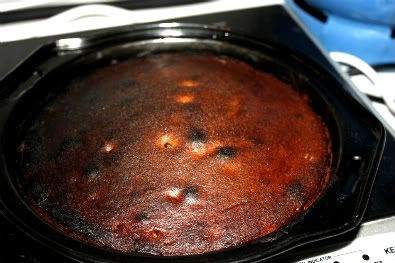 Fresh from the oven ((:
Then i cut the round cake into a heart shape.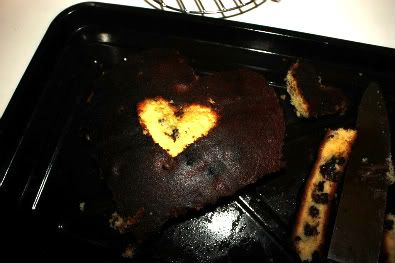 & i cut a tiny heart shape in the middle so i can place the note inside.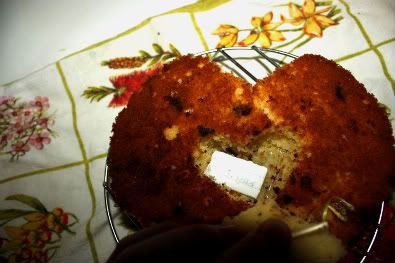 I wrote a short note & placed it into a tiny piece of transparent plastic so that the note will not get oily. (I cut the surface of the cake cause it was kinda black which is damn ugly. Haha)
Done! :D I tied a ribbon to the tiny heart shape so tt when Zy pulls the ribbon, the tiny heart shape will come off too. & He would be able to see the small note (: Like a tiny box.