I got back from school not long ago. & After this post ima go sleep. Am not feeling well. Down with cough & runny nose! Body's feeling very warm.
Ok here's the recipe (enough for 1-2 person) :
75g Plain flour
1/4 Teaspoon baking powder
40g Hard butter
40g Brown sugar
1 Tablespoon beaten egg
1/4 Teaspoon Vanilla essence
1 Tablespoon milk
1. Grease baking tray. Preheat oven to 180 Degree Celcius.
2. Sift flour & baking powder tgth.
3. Cut fat(butter) into small pieces & rub in with finger tips till mixture resembles breadcrumbs.
4. Add sugar & mix well.
5. Add beaten egg & vanilla essence, mix to a soft pliable dough.
6. Sprinkle table/chopping board with flour & knead dough till smooth.
7. Shape dough as desired.
NOTE: Once cookies start browning on the surface, take them out lest it'll be burnt!
You can also add nuts/choc bits before shaping the dough.
Pictures of the cookies before & after:
Once shaped, put onto baking tray & into oven.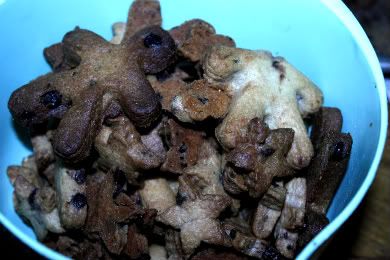 Once done, cookies should turn out light/medium brown. Not dark brown! The dark brown ones were difficult to bite.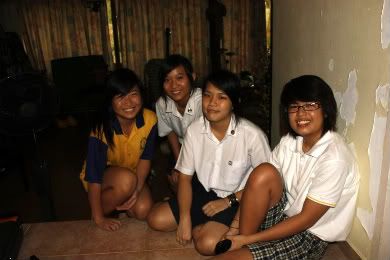 Me, yy, ry & Des ((: The happy bakers.