Because with you,
I'm always happy (:
My school's having a National Day carnival next week. The highlight of the celebration would be the huge S'pore flag that every class will be contributing to put tgth. Every class is given a task to do- To collect recycled items of the colours, Red & White. Some classes are doing the bottom part of the flag, the stars etc. My class, is doing the Red part tgth with 5N2. Ours is like crap. 5n2 Do until damn neat. I'm def looking forward to next Friday when the collage of the huge flag will be pieced tgth. It's gonna be so cool :D Today we were all chiong-ing to paste the red recycled items onto the cardboard. Everyone was having fun la. Smearing each other with Red paint. Lol.
Studied at Macs after school today. It was productive (: I finished doing my math tuition ws & half of the Eng ws :D Jasper came to teach us. We were there for more than 4 hours. Had much fun crapping with them every now & then (:
1 MORE WEEK TO GO BEFORE ZY COMES OUT :DDDDDDDDDDDDDDDDDDD HEEEE. *Excitedddddd*
Pictures of the preparation & study time (Sorry for the ultra lousy quality pictures. Taken with phone cam)
Everyone helping out to paint the cardboard (: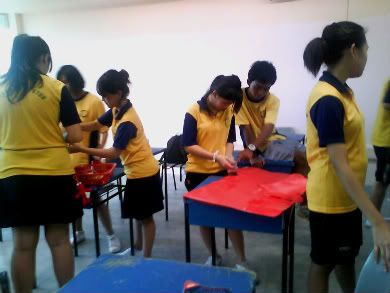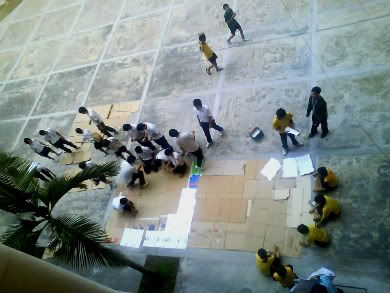 Other class- As you can see, their're doing the white part.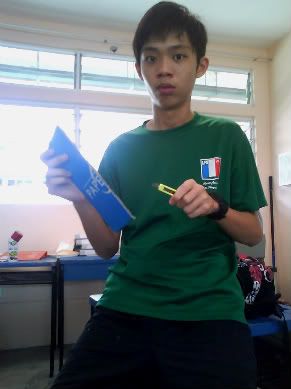 Javier the killer. Lol. He looks like some mental patient.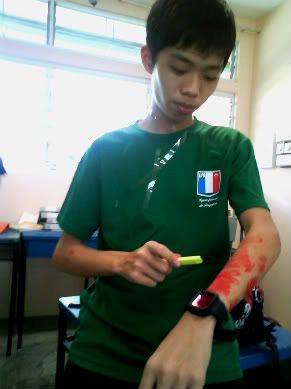 He got smeared with Red paint. Thus, tt action. Lol.
Firman. He kept playing with his extended 'hair' hanging by his ears -.-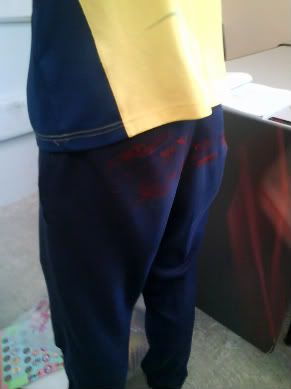 & He acc sat on the cardboard which was just painted. Lol.
Zn & Joey.
Zn's huge hand print on my leg!! He suddenly smeared me with paint. Lol.
SO UNGLAM RIGHT?? LOL. Tt's Stacy! Hahahaha.
Yknow why the baby look so frighten & on the verge of tears? Cause Stacy was the one taking the photo. & The baby was afraid of Stacy. Hahahahaha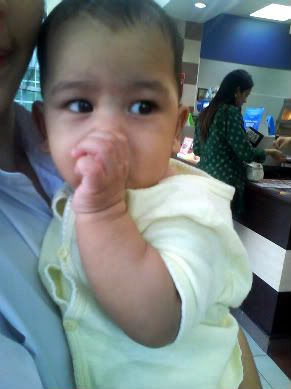 So adorable right?? Don't you just feel like pinching his chubby cheeks?? ((:
The brother of the baby. Another adorable one (: (Firman's nephews)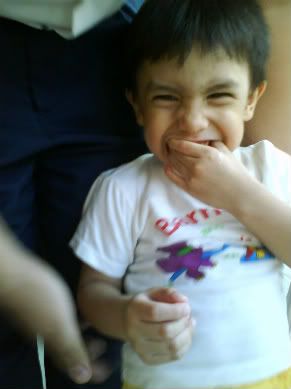 He kept biting his hand. Bad habit.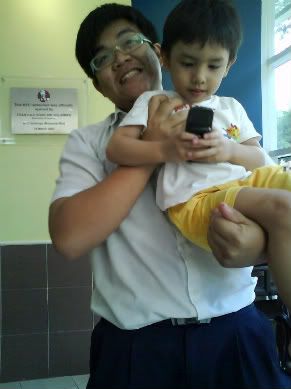 He was super engrossed in the games in Yf's phone. & His damn smart for a 3 yr old.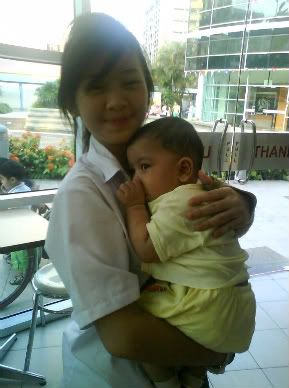 The baby initially saw Stacy as a monster. He covered his eyes and hid his face & started crying when he saw Stacy. Hahahaha. Damn funny.