I attended Sunrice's open house today with my mum. It was awesome! (: I was totally captivated by the school's facilities & presentation. They had 3 different kitchens tt catered to the different cultures. E.g. Chinese, Indian & Western Cuisine. There was a Spice & Herbs tour conducted for us around Fort Canning Park. It was an interesting tour & very informative.
We even had a demo for the specific course we were interested in. There were 3 courses- 1. Culinary arts 2. Baking & Pastry 3. ACP. Initially i chose the 2nd one as tt is where my passion lies. We were seperated into 2 grps according to the course we chose. The head chefs of tt course wld do a demo for us & let us try it out too! On my side, we did cookies! It was really fun! At the end of everything, we got to eat the food tt we cooked/baked. I got to speak to the chef to gain more information before really deciding on the course i am interested in.
I have alr applied for the course. But i chose Diploma in Culinary Arts instead of Baking & Pastry. Baking is something tt can be learned easily, but not for Culinary. If i do get in, i gotta sit for a Math test & go through 3 interviews. They only accept 21 ppl into the Culinary Arts course. It's a really tough competition!
All in all, the organization of the open house was absolutely fantastic! I totally enjoyed it & got to know more on what both courses offer. Just to clear your doubts, i am still going to poly. But if i am accepted into Sunrice, i will drop out of poly & go straight to Sunrice instead. I don't wanna waste my time doing something i ain't interested in. Plus in the cooking industry, they do not look much at your paperwork. What's most important is your working experience, talent & attitude. I wanna start early to build up my working experience in this line so as not to waste any more time than i alr have.
The cookies we got to try out using a piping bag! The first 4 are done by me. The ugly ones on the bottom not done by me! HAHA.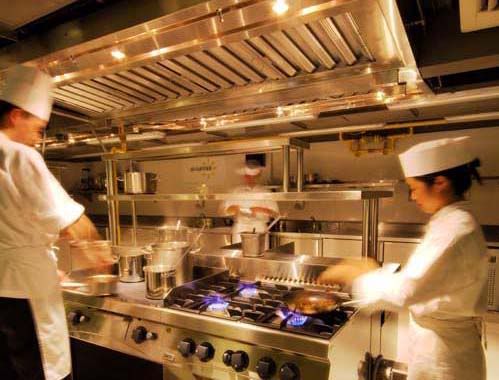 One of the kitchens. (Pic grabbed from Sunrice's website.)