I went away on a trip to Bali for a week. It's the longest i've been away for w friends. I've never been to Bali before so i was pretty excited to be gng. I imagined myself tanning on a mat, relaxing by the sea as the waves crashed against the shores.. Doing water sports related activities like surfing & such. Unfortunately, i did none of tt. Neither did i go to a beach like i thought we wld. Hahaha we only went to the beach twice, & it's all in the night. We went there js to chill & hv dinner.
So anw, here's Day 1 & 2 of my trip! Everyone brought their own cammy's & video cams. So in total, there was close to 3k photos, & 20 over videos. Lol imagine how long tt al took to trans. I'm gna start w the visuals now & explain along the way.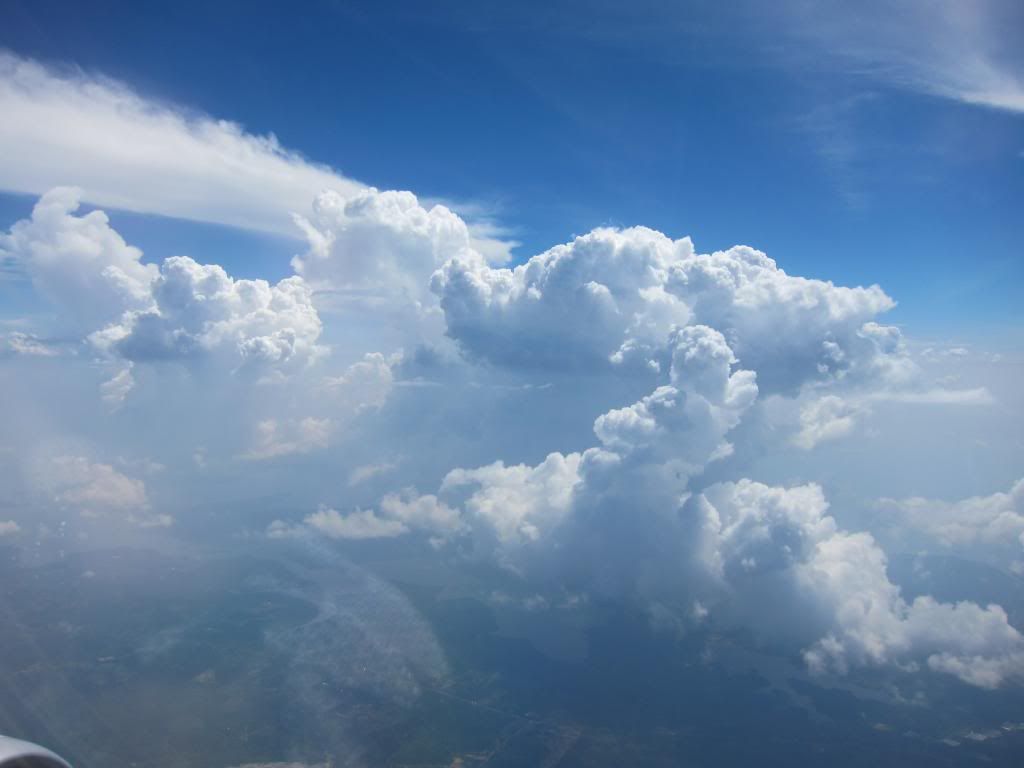 A mandatory clouds shot. I love sitting right next to the window js so i can look outside & see the fluffy clouds go by.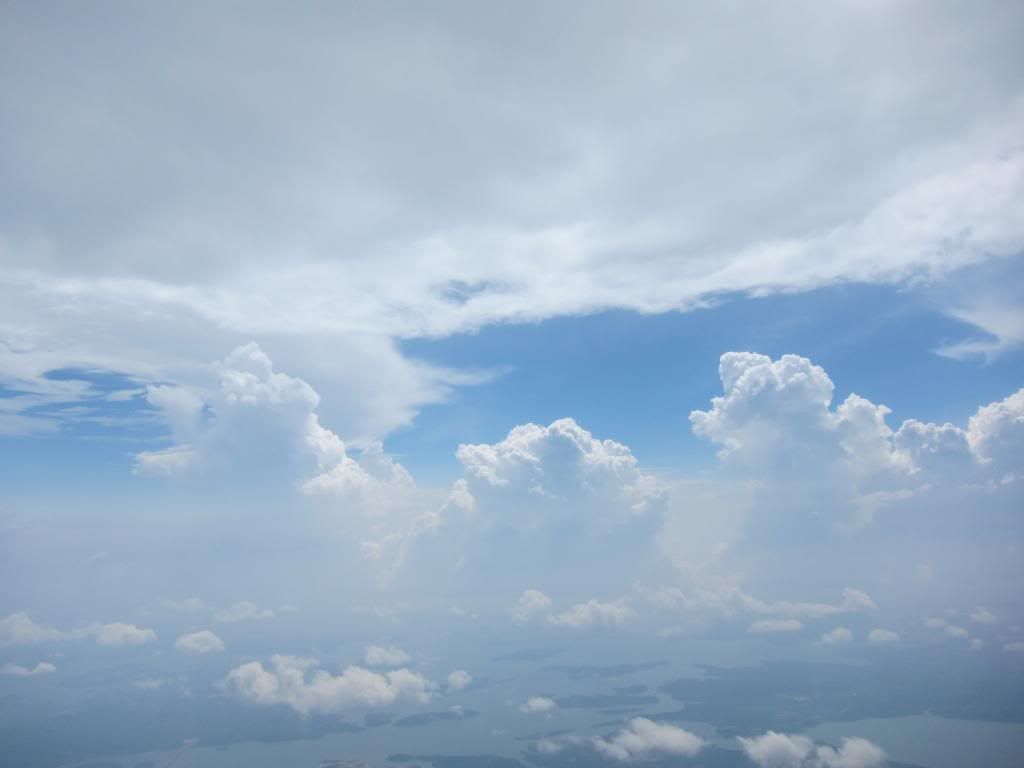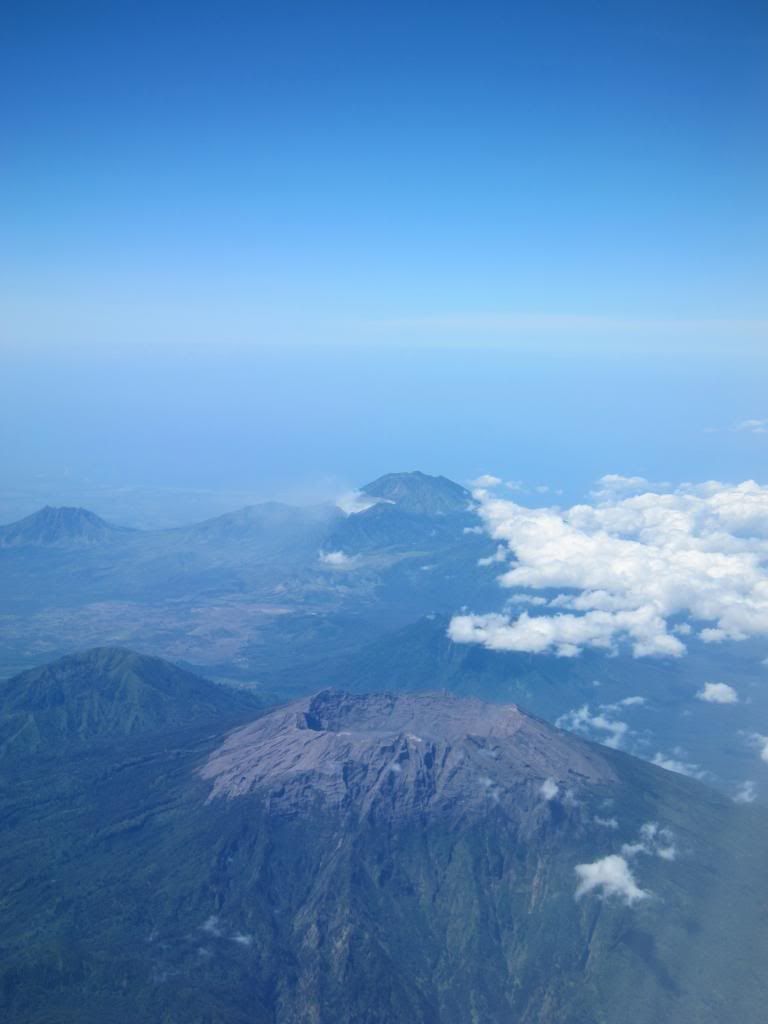 Passed by this volcano whilst on the plane.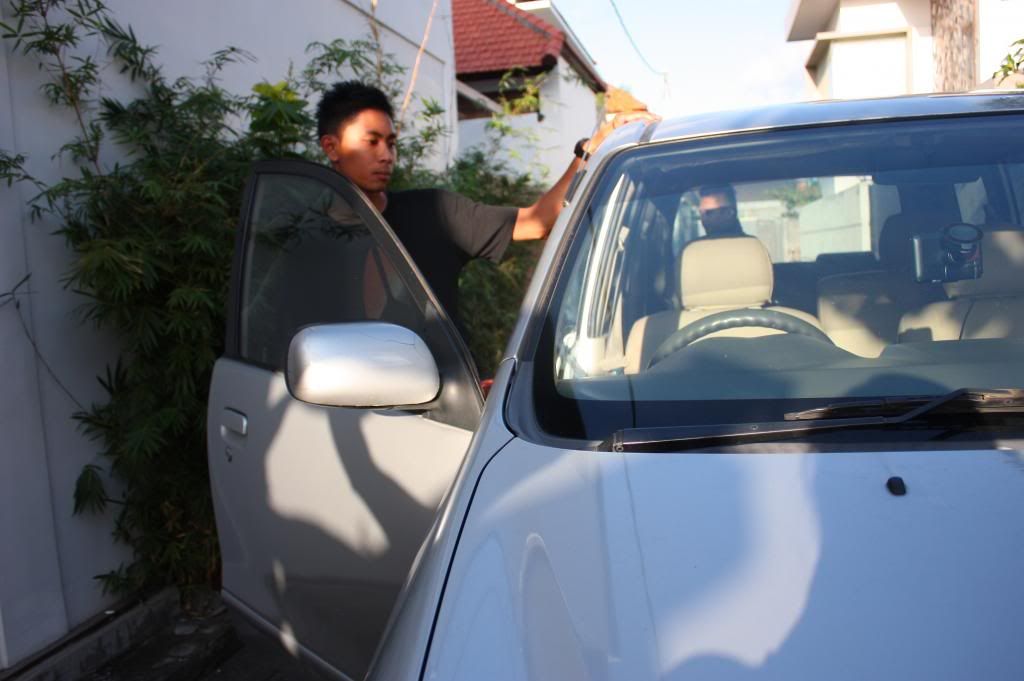 upon reaching the airport, we had a car waiting for us which we rented from
Autobali.com
.
Call "Gede" at +6281338341717 (to rent a car from their site)
The car we drove was spacious & cld fit 6 ppl.
I wld suggest renting a car as getting ard Bali wld be easier. There is a GPS provided in the car. But i must warn u tt driving ard Bali to do activities take an hour or so depending on where u are headed. It def beats taking a cab since the fares there are rocket high! Plus u get to go wherever u want w/o having to wait for a cab.
Aft driving for an hour or so, we finally reached our villa called "Villa NaNa". Tbh, Villa NaNa was rly hard to find as it was tucked in deep along some alley. We knew we were in the right area, but finding the correct villa wasn't easy.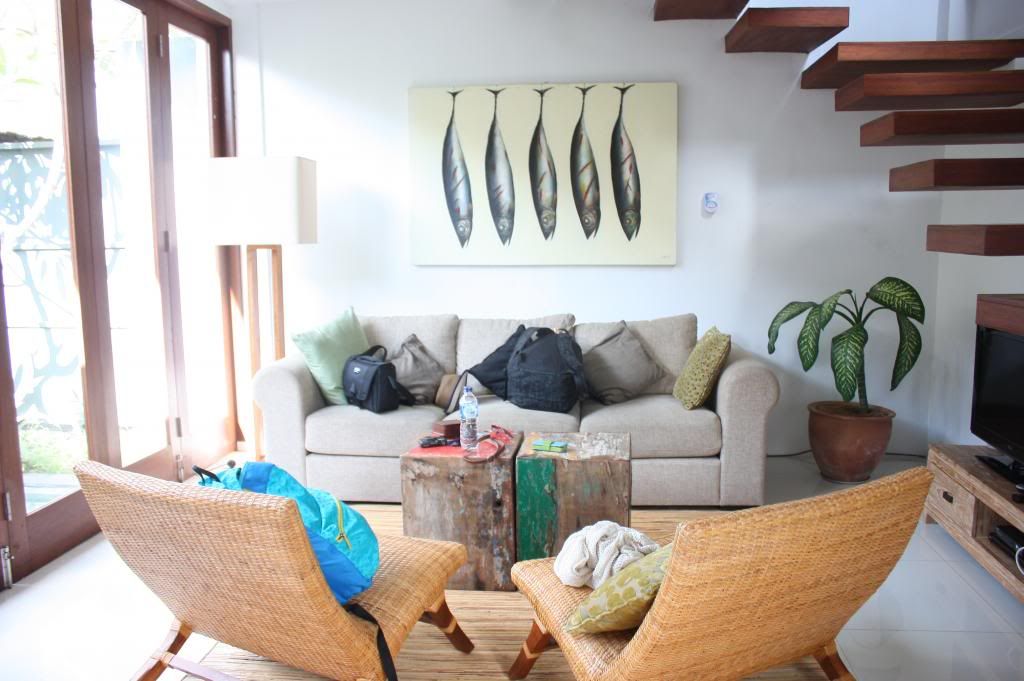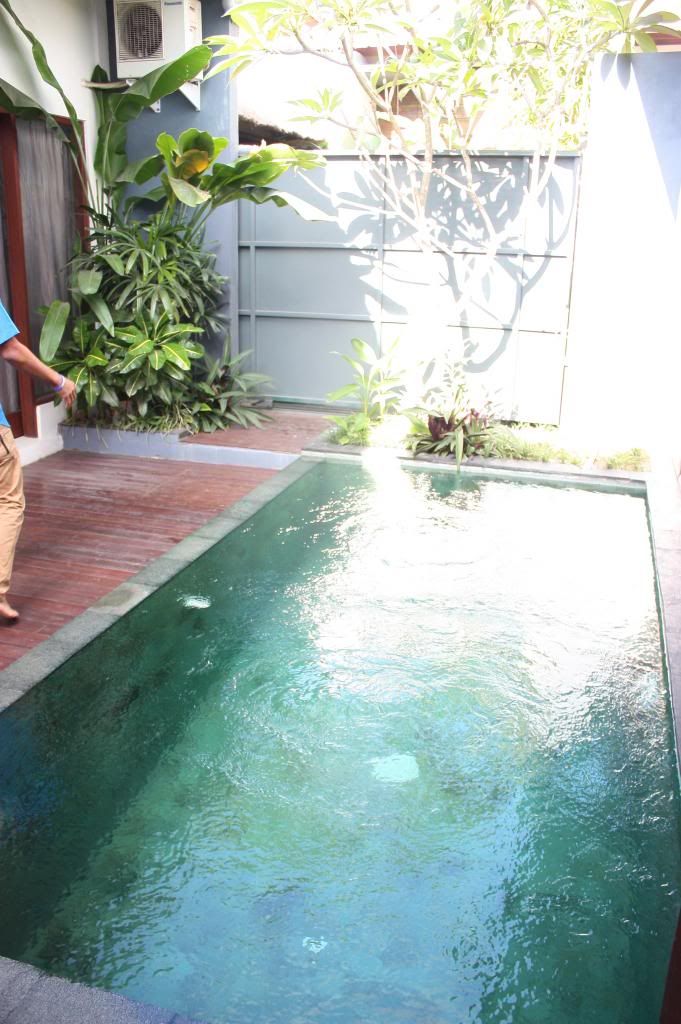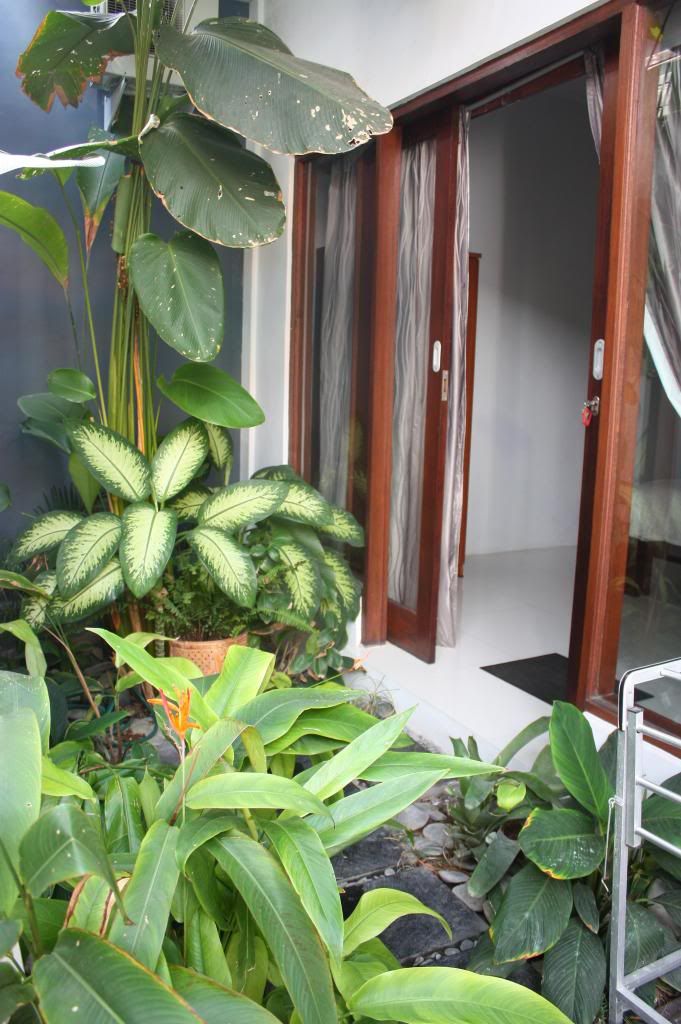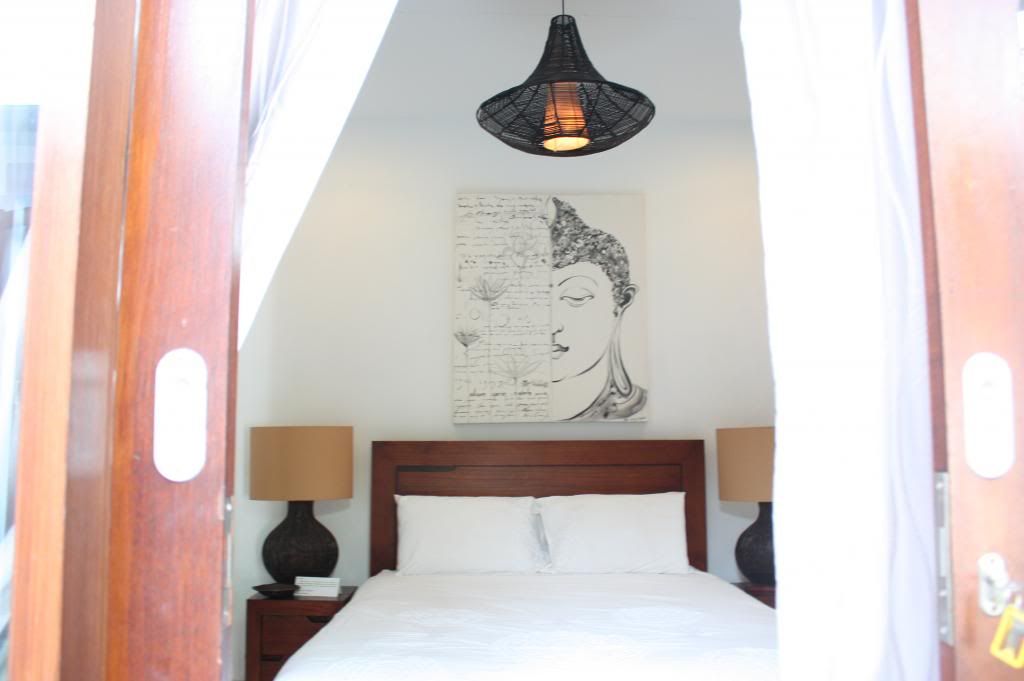 The 2 rooms above, are the rooms right next to the pool. Also, these 2 rooms share a toilet in the pic below.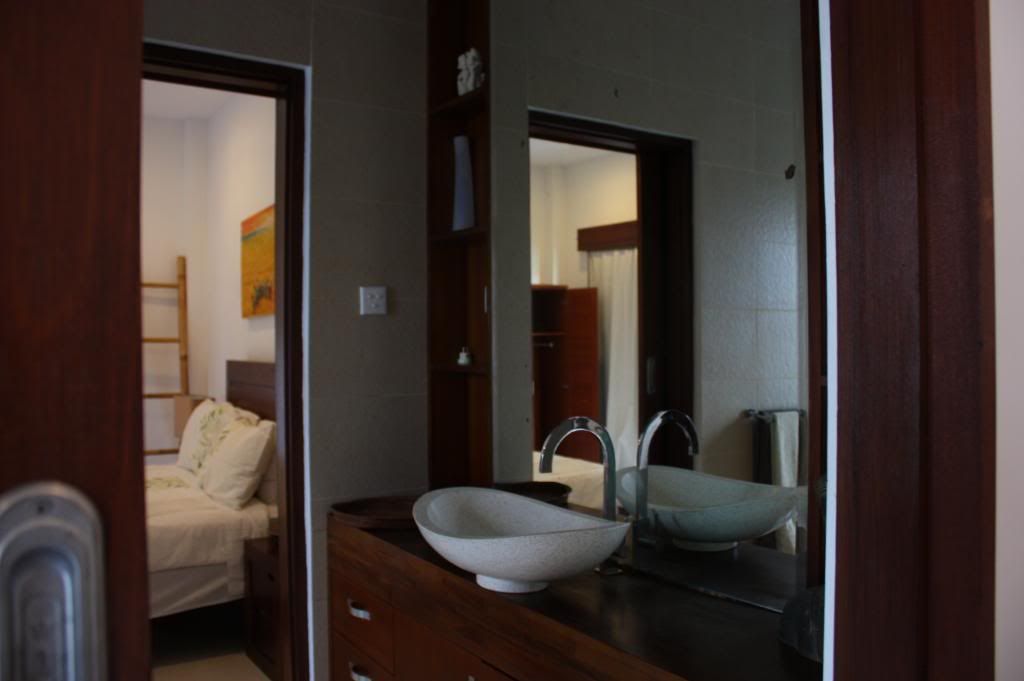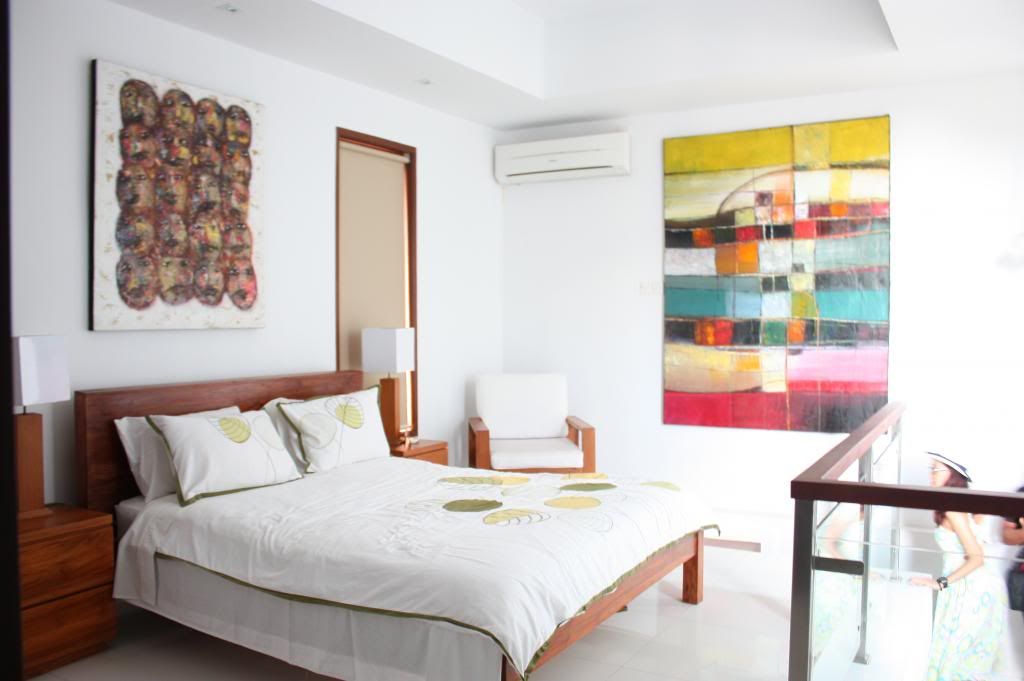 Up the stairs from when u open the door, is to the master bedroom. Where it is bigger & has a toilet.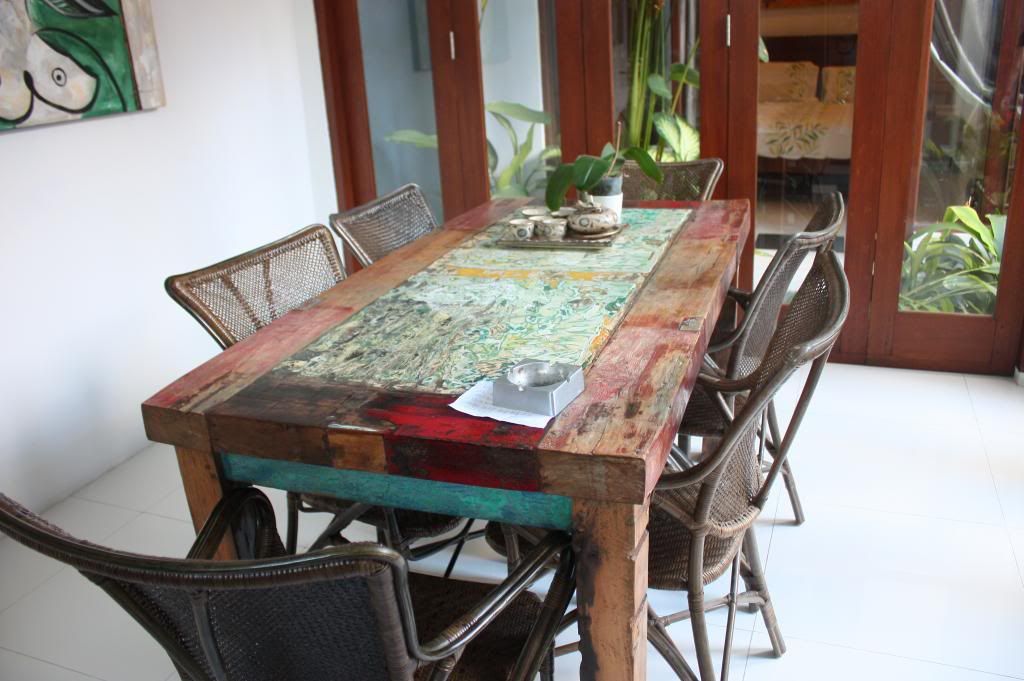 Dining area.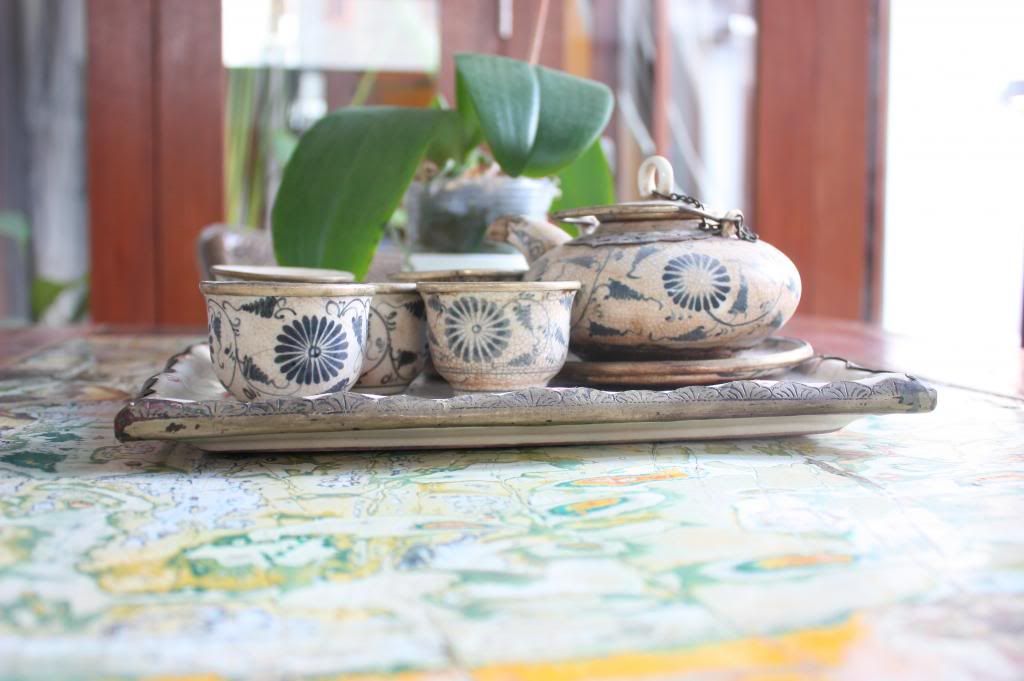 Kitchen w fully equipped untesils, cooking ware & etc. Personally, i was taken aback by how stocked up the kitchen was w the equipments. Didn't expect much but i was wrong. V impressed in fact.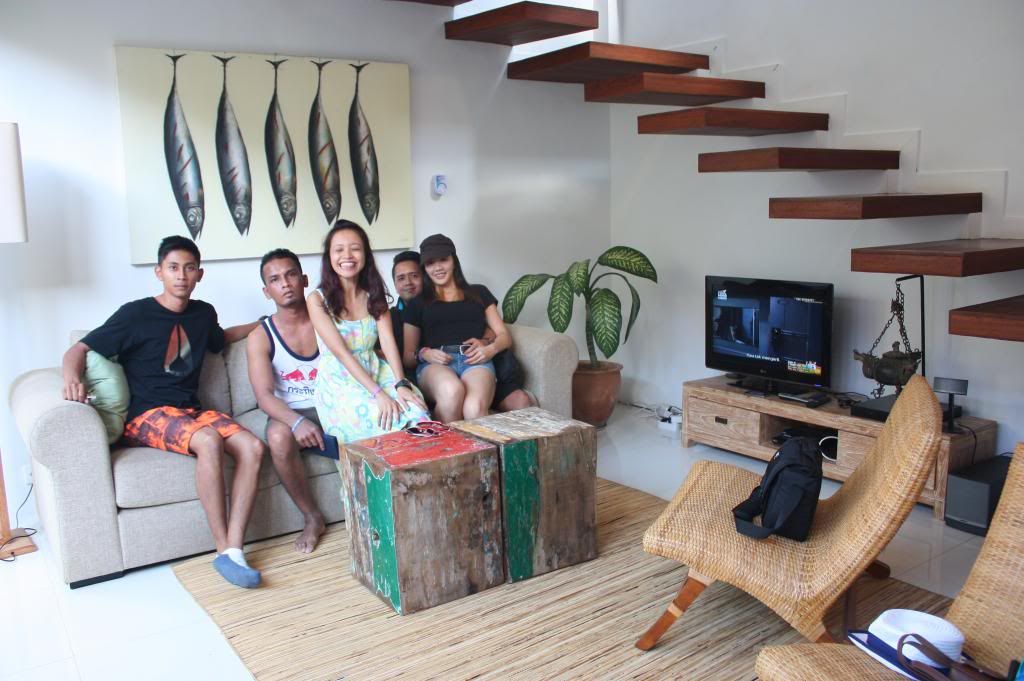 These ppl are R's friends whom i travelled with.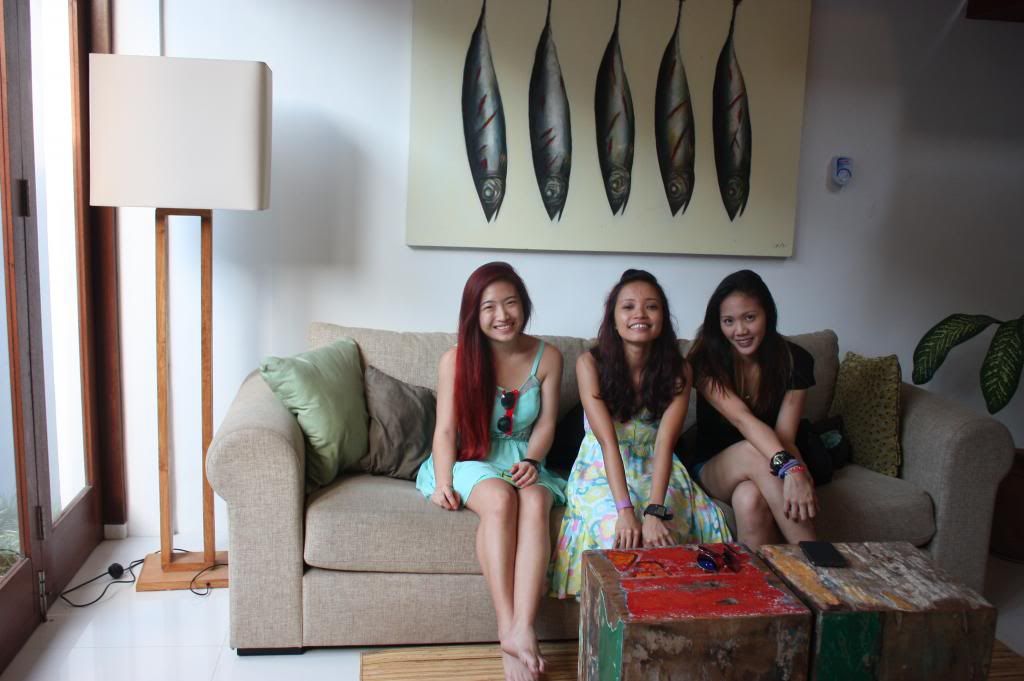 The villa was beyond beautiful & comfy. There was only ONE teeny tiny prob. The shower located at the bottom where the 2 rooms had to share.. Was superrrrr slow! The water tt came out of the showerhead was insanely slow to the core! It took me 1hr plus to bath when usually i wld be done in 15mins. However, the shower in the master bedroom was way better.
We booked the villa from this site
here.
You can view more photos on the villa from their Facebook page
here.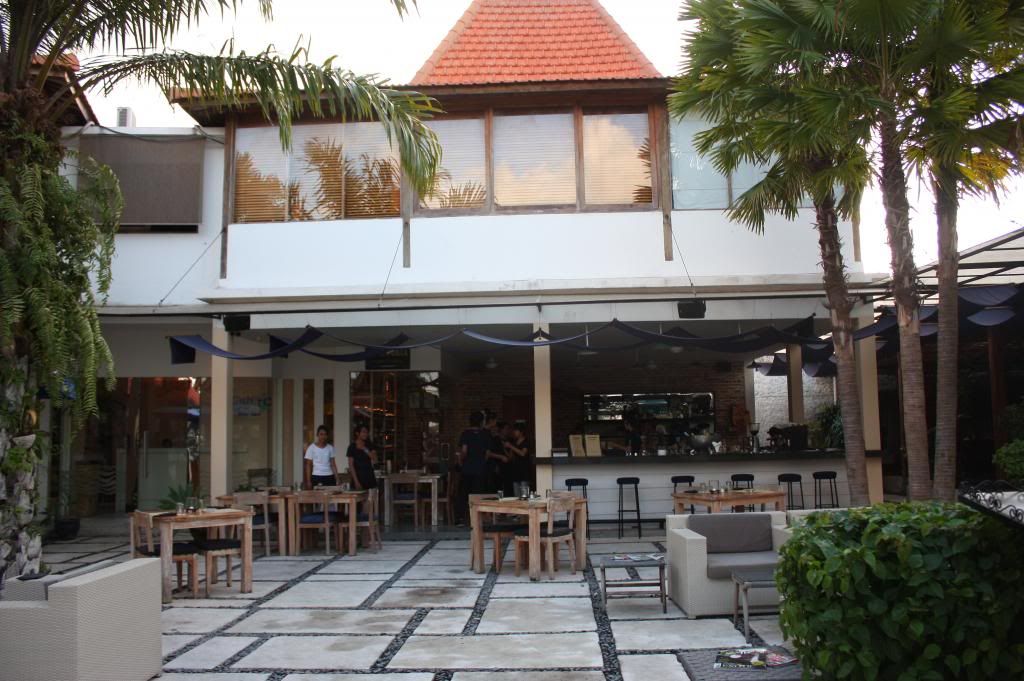 Settled for dinner at an Italian restaurant which SG has too.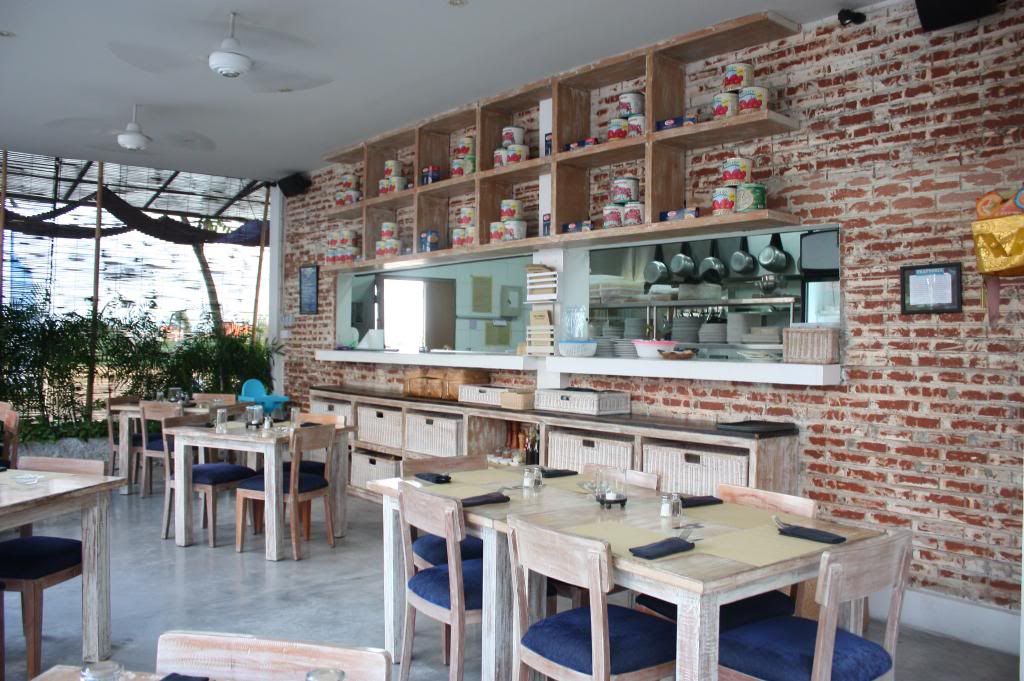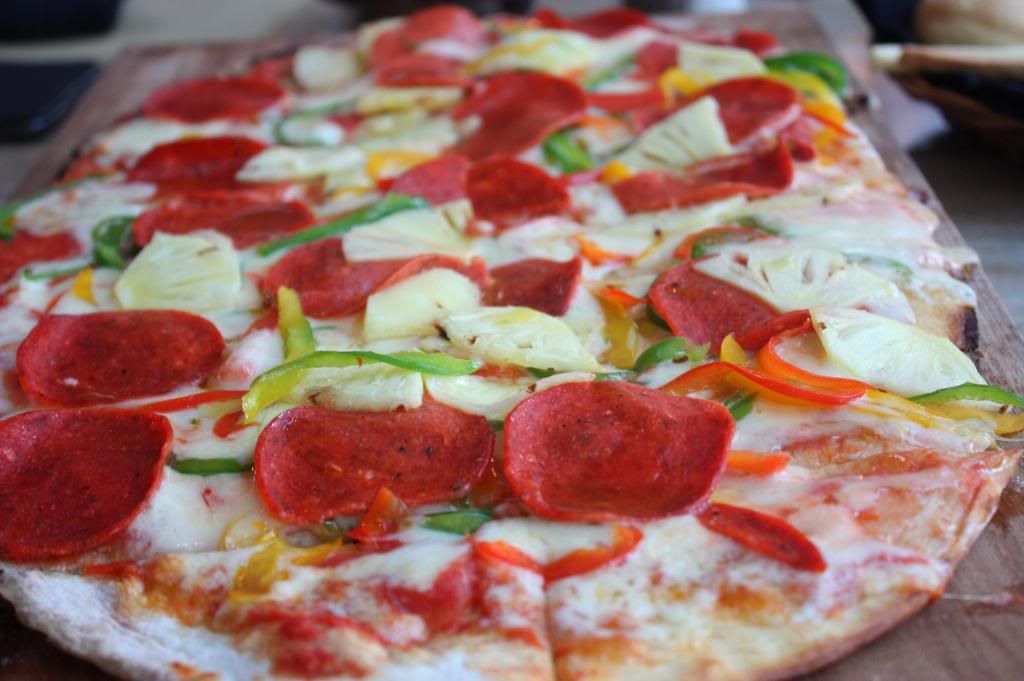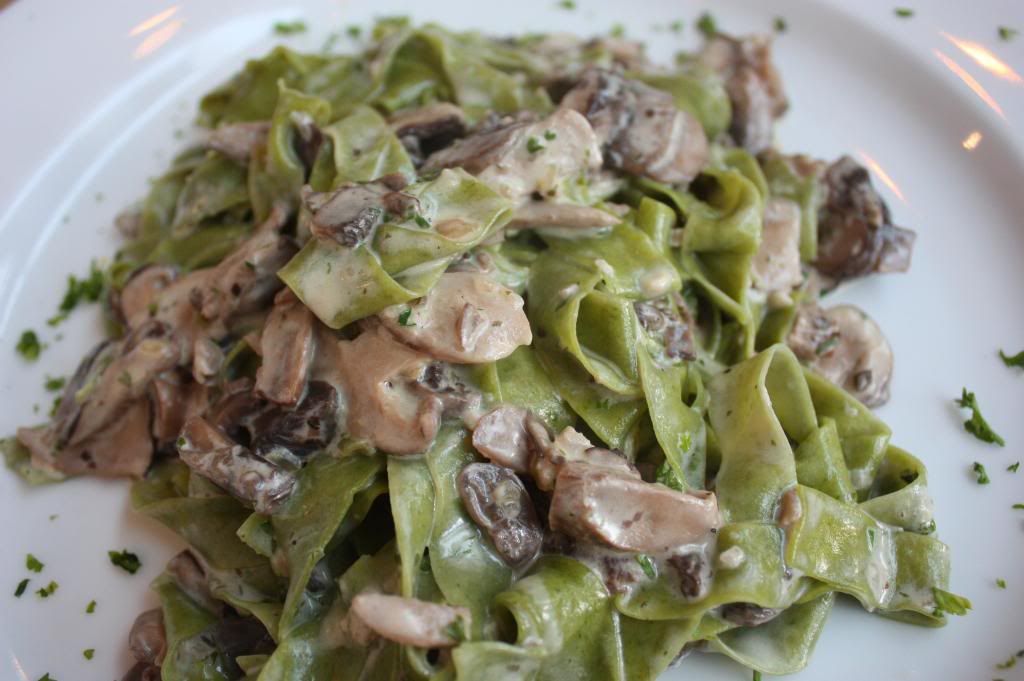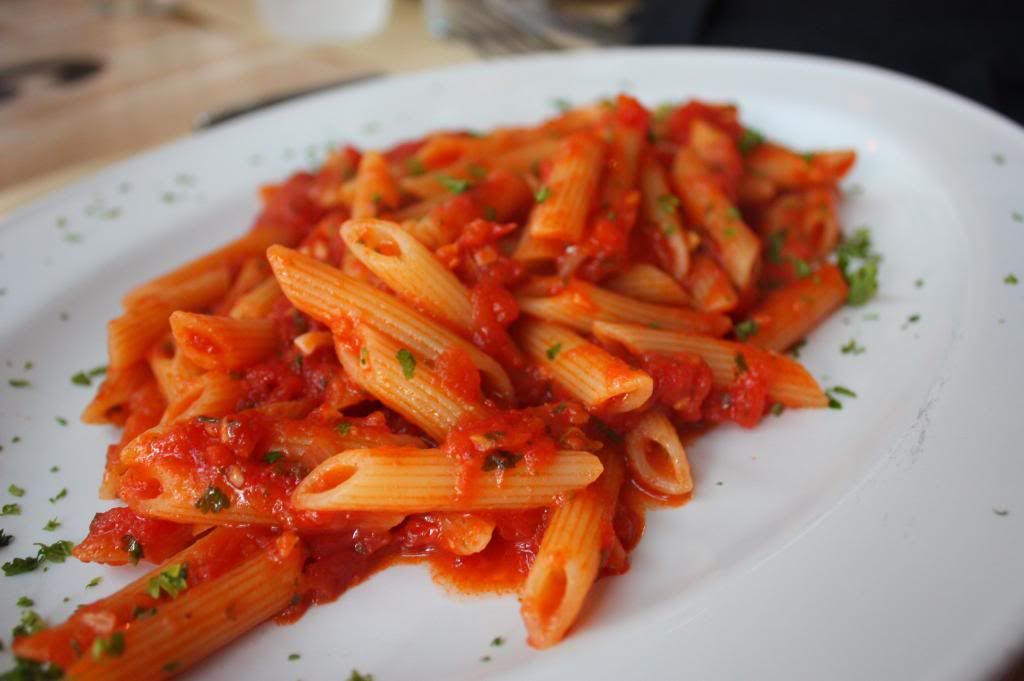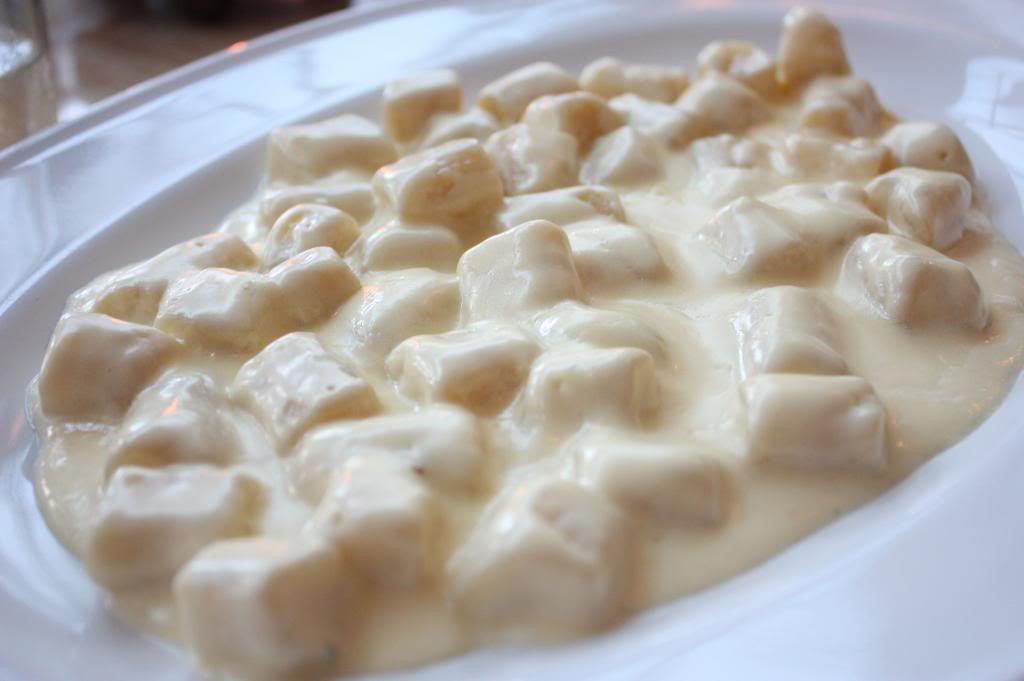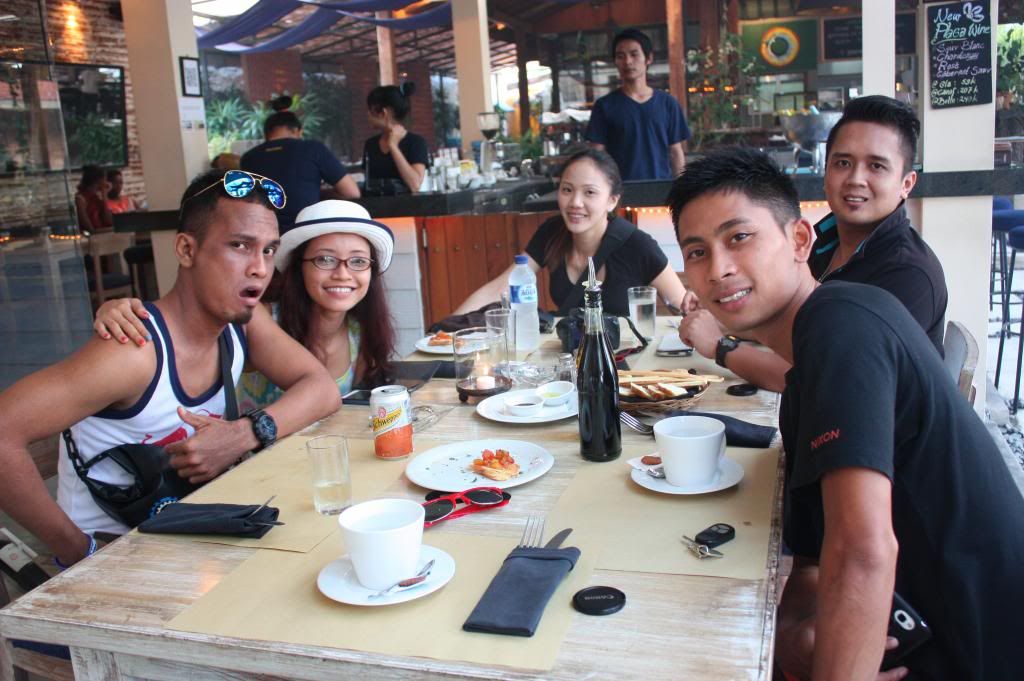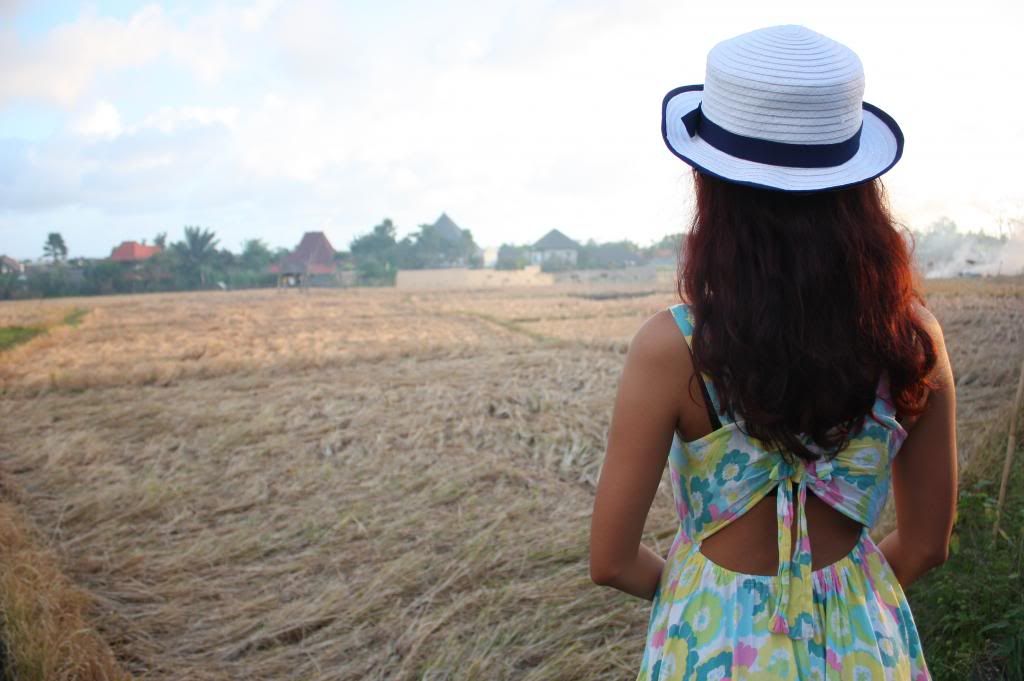 With my bunny :*)
This pretty much sums up our Day 1 at Bali! Didn't do much.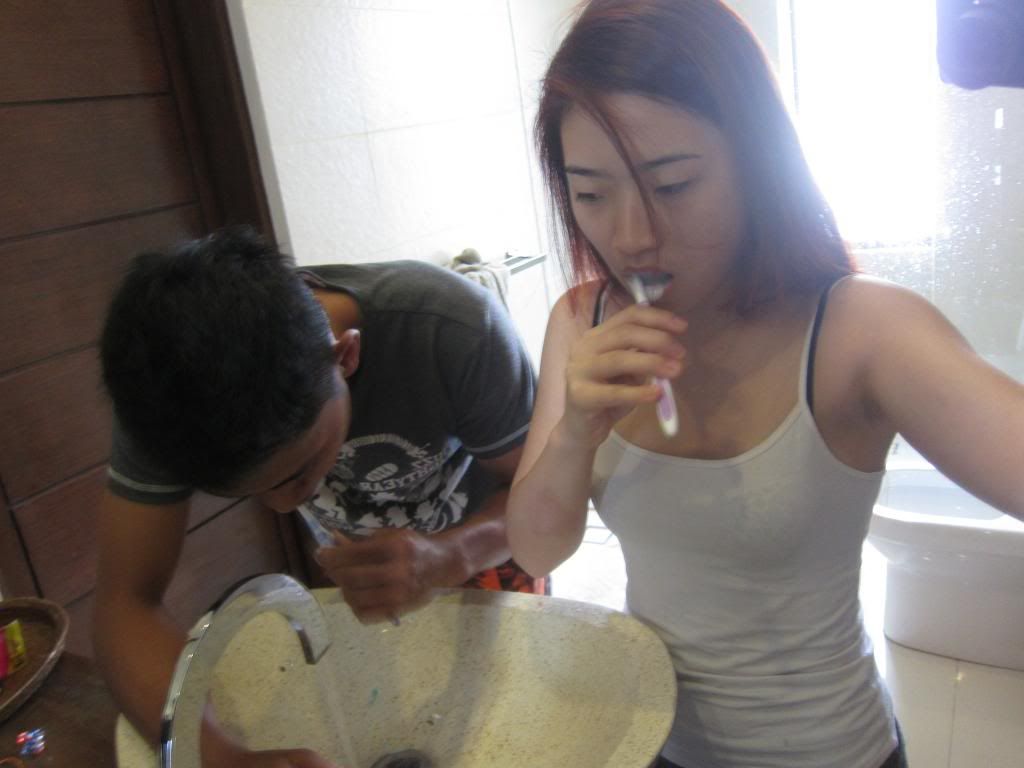 This right here, is pure happiness:
"Waking up in the middle of the night for no reason; Shifting under the blanket & feeling the heat of the person next to you. You turn ard and see them in their most peaceful, innocent & vulnerable state. You smile, kiss their cheek gently so as not to wake them. You turn ard & a smile spreads across your face. Then, you feel an arm wrapped tightly ard ur waist & in tt very moment, yknow it cldn't get any better than this." :)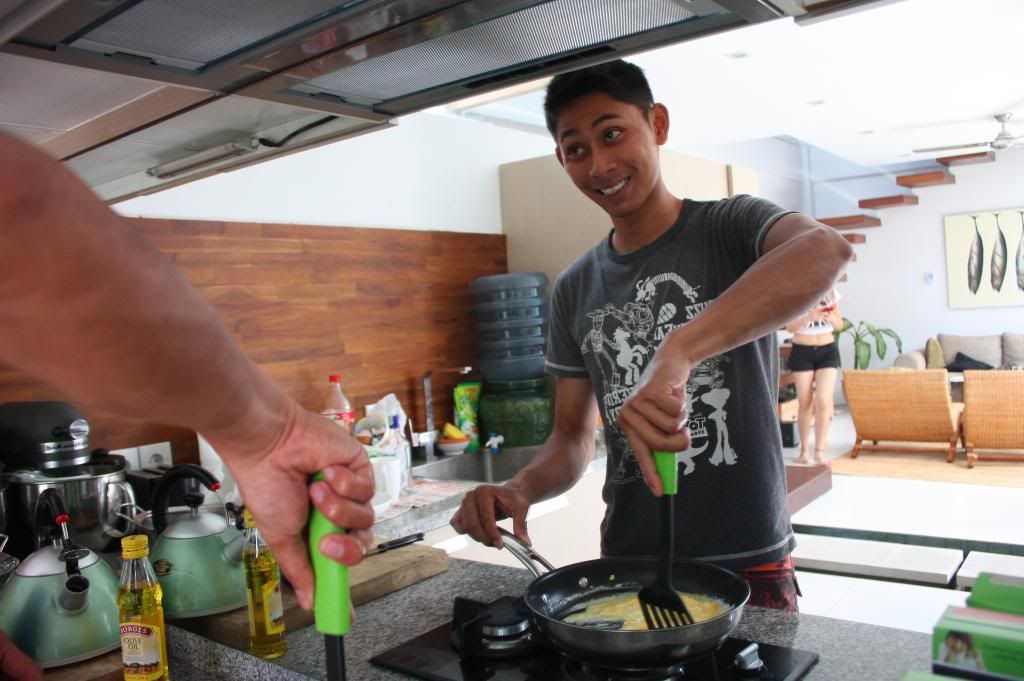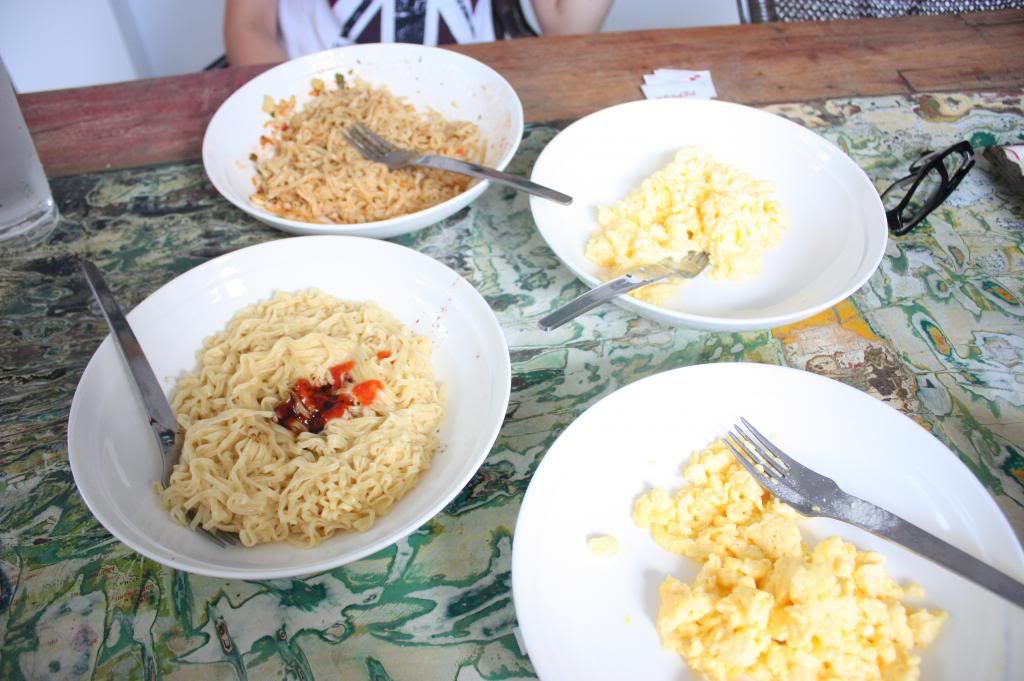 Our morning routine: Cooking breakfast tgth! It was the best feeling in the world to hv ur partner cook for u. The tables hv turned this time round. *Grins* Its nice to hv someone else do the cooking instead esp when i'm on a holiday.
DAY 2.
This flowy dress i am wearing is rly comfortable & airy.
Flowy dress:
ASOS
Candy striped bow straw hat:
Aldo
.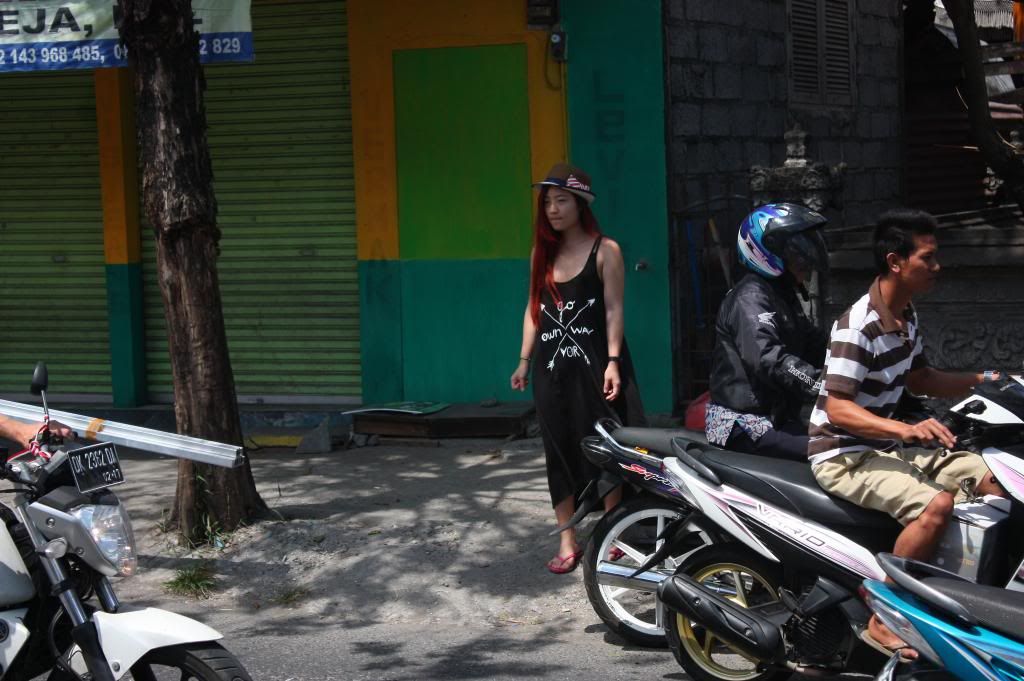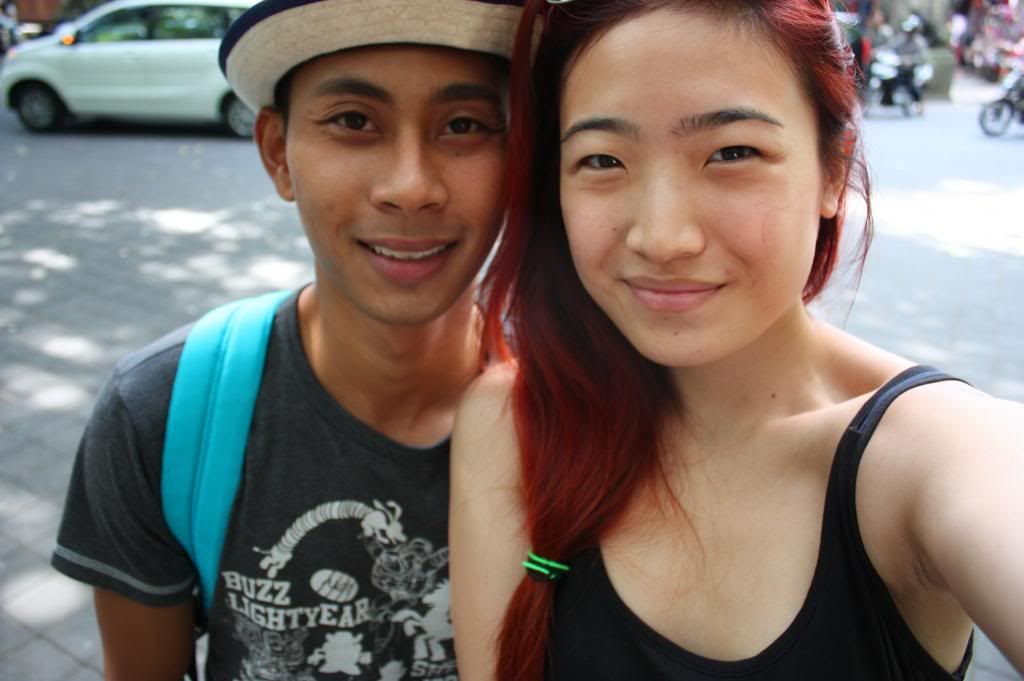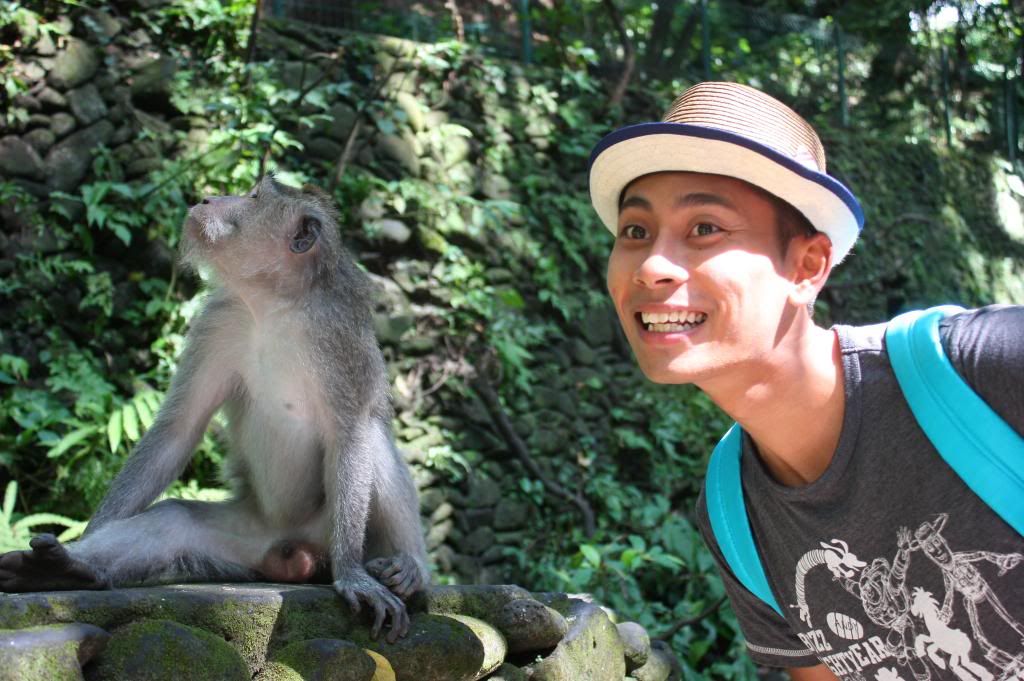 Made a trip down to the Monkey jungle. Which to me, was not v fascinating or new cause i see it v often in my estate. But i wld admit tt the monkeys there are def friendlier than the ones wandering ard my estate.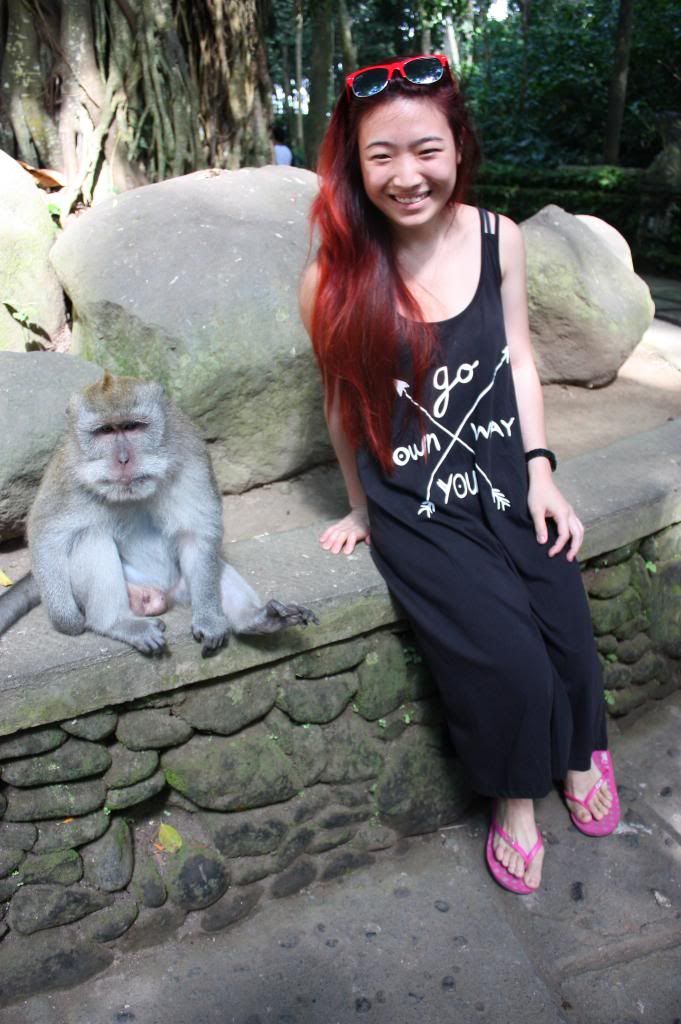 This monkey was the cutest! It lied down & looked at us w doe eyes.
Note: NEVER go near a money w a baby!! U will get bitten, this i assure u.
Why do i know?
Cause i got bitten by one in M'sia when i was younger!! I didnt know it wld bite & be so protective over it's baby. I was js a kid. The scar is still on my knee.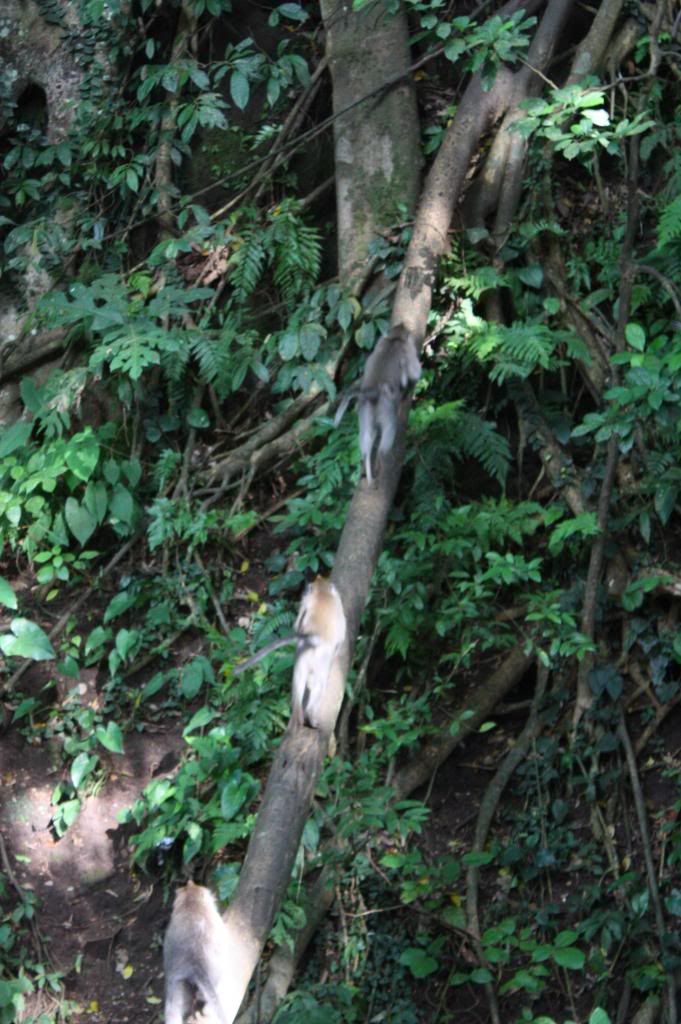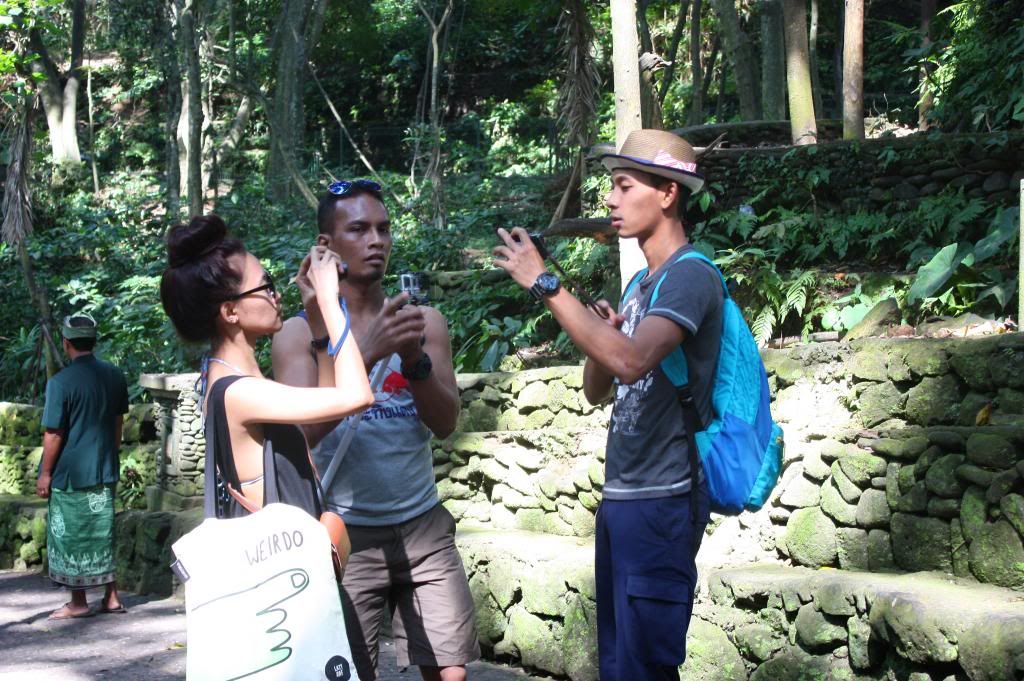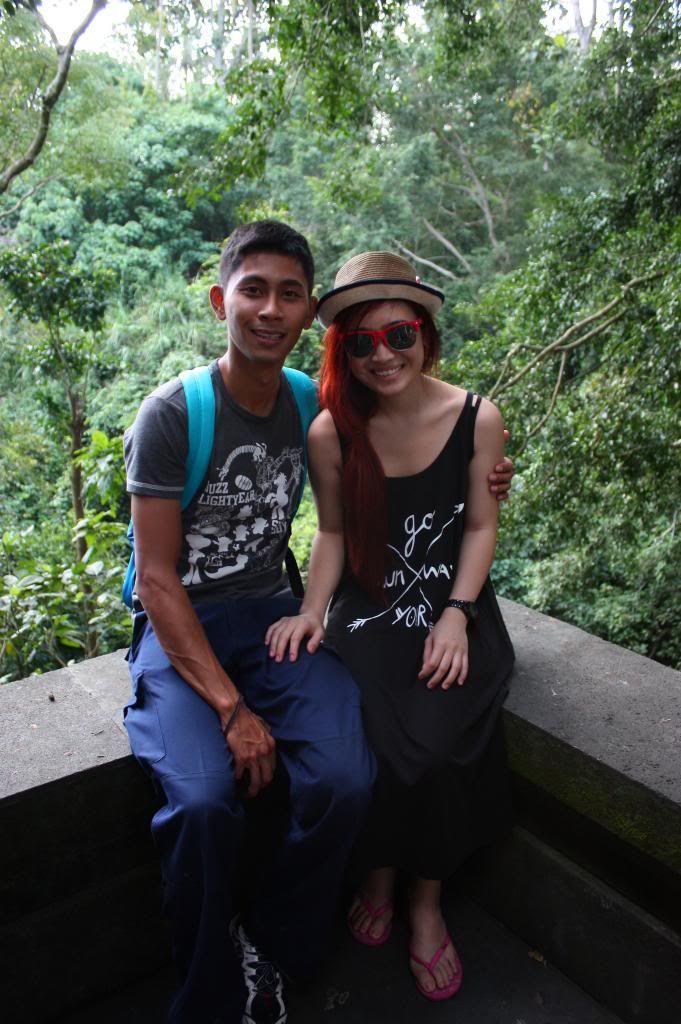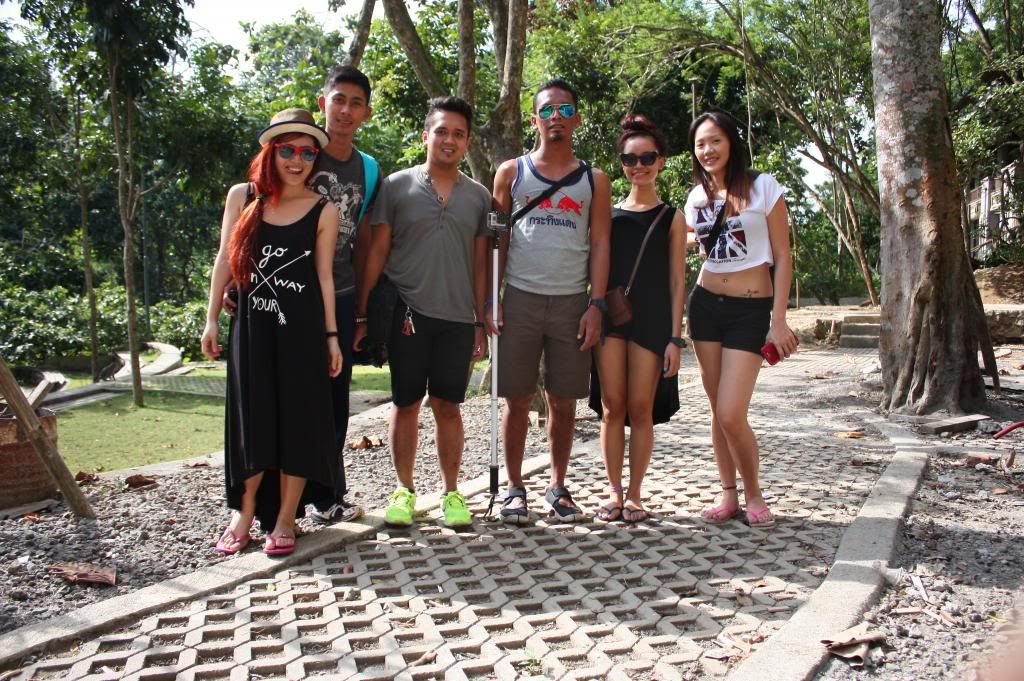 We found a quiet place in the Monkey jungle and took some couple shots & group shots.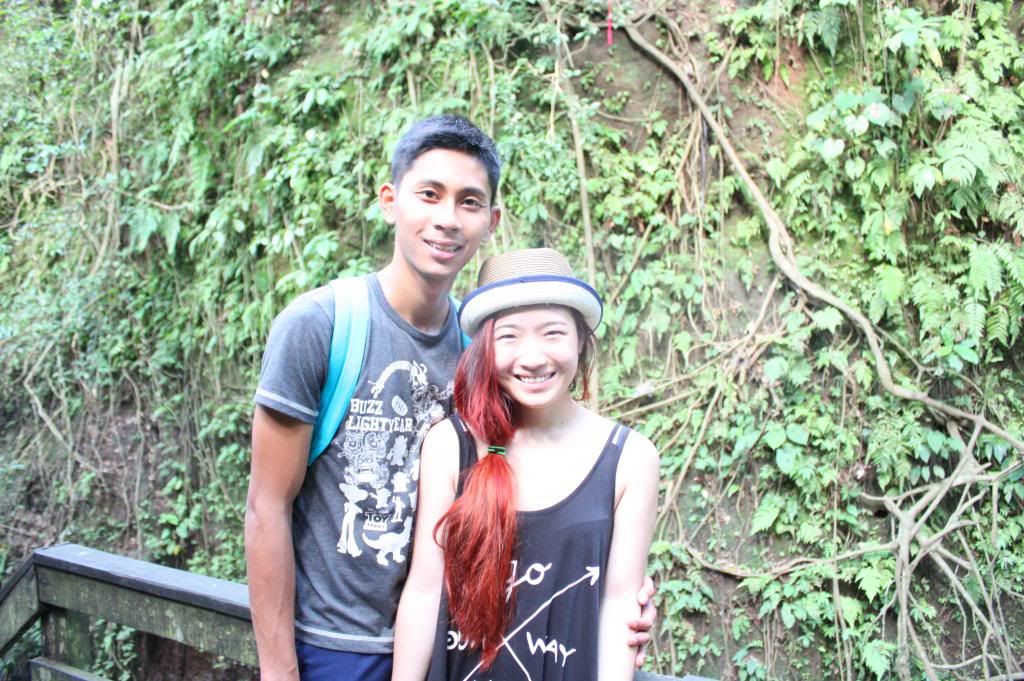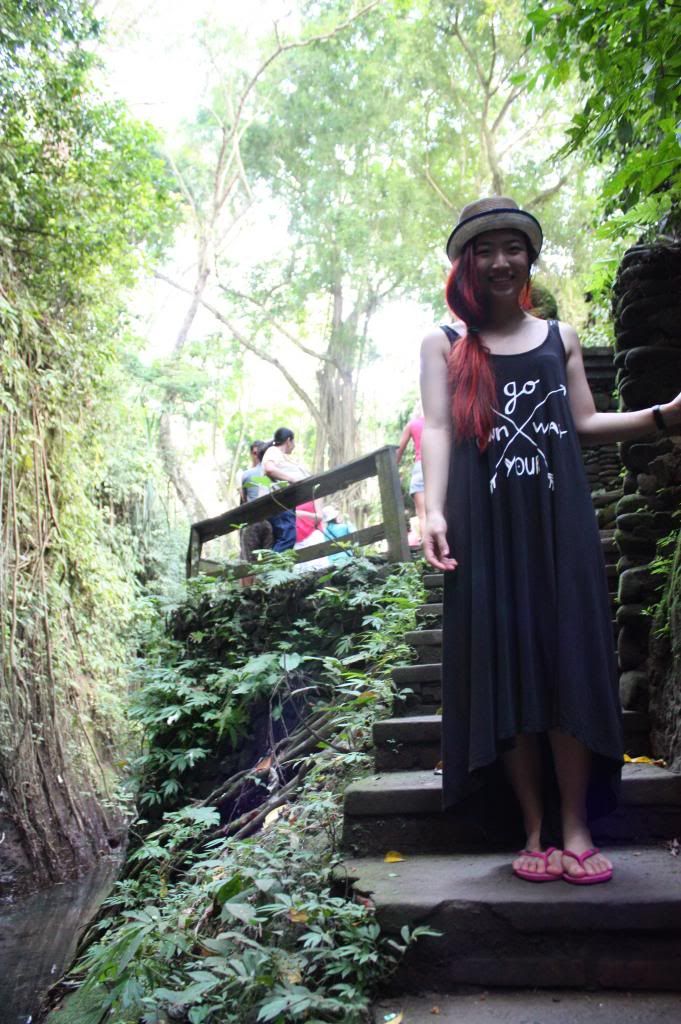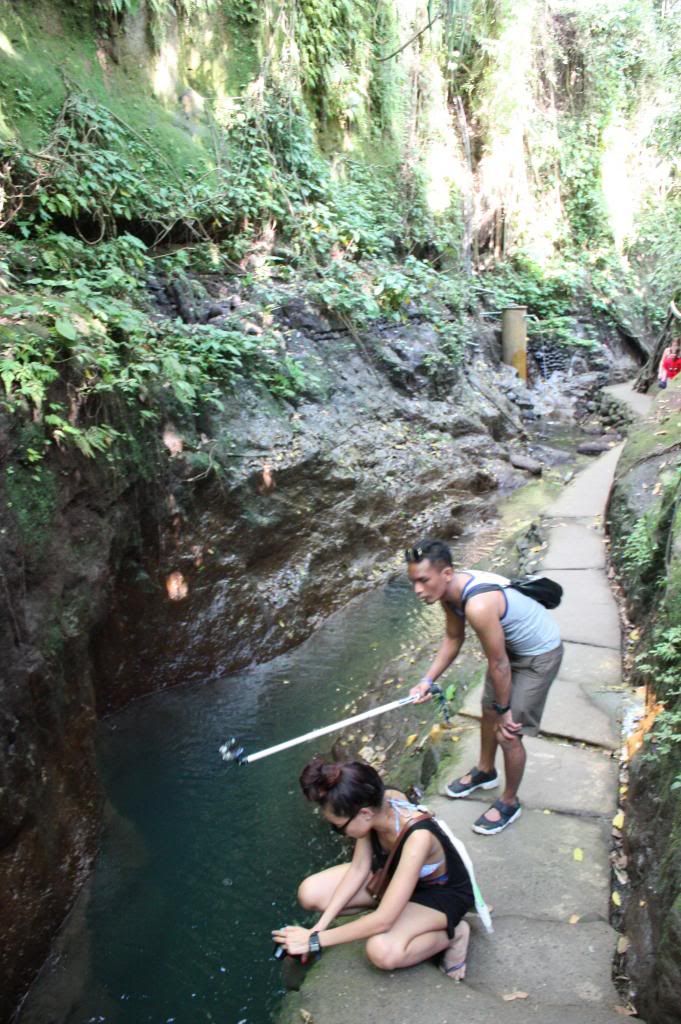 Deep in the Monkey jungle, there's a beautiful waterfall. The path into this area is rly narrow so we had to walk w caution.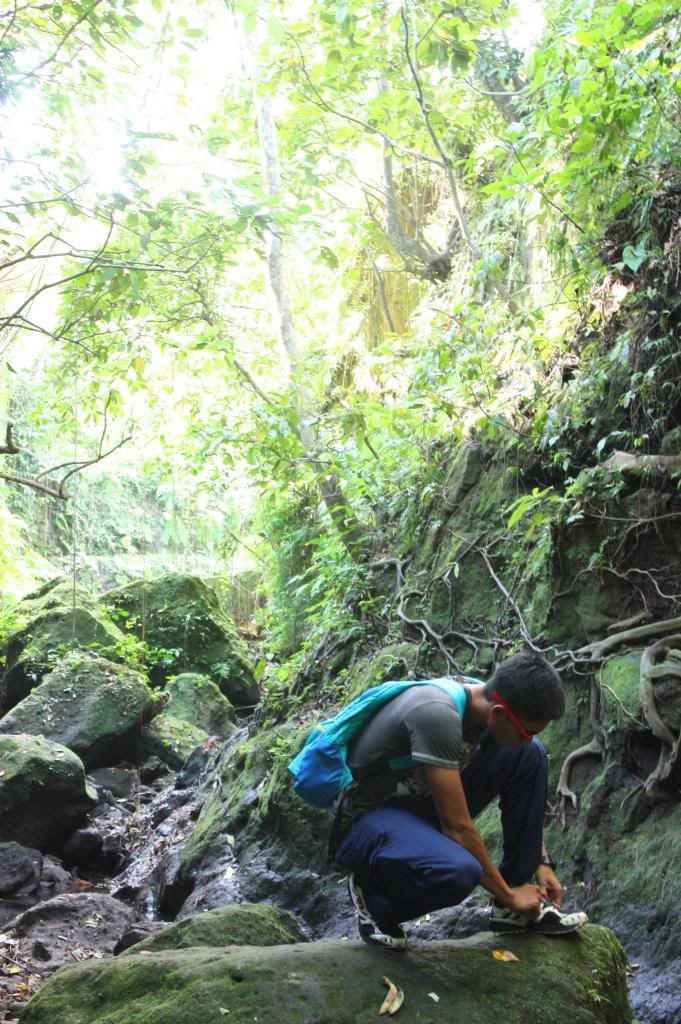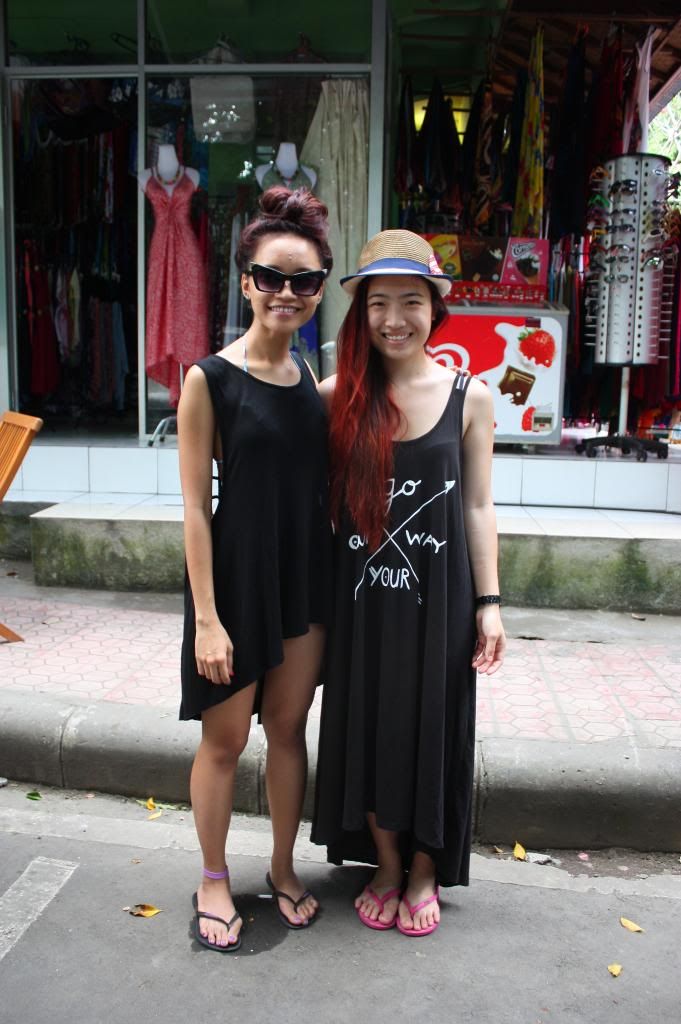 This is Iza (: We love shopping at
ASOS
! Her top is from
ASOS
too!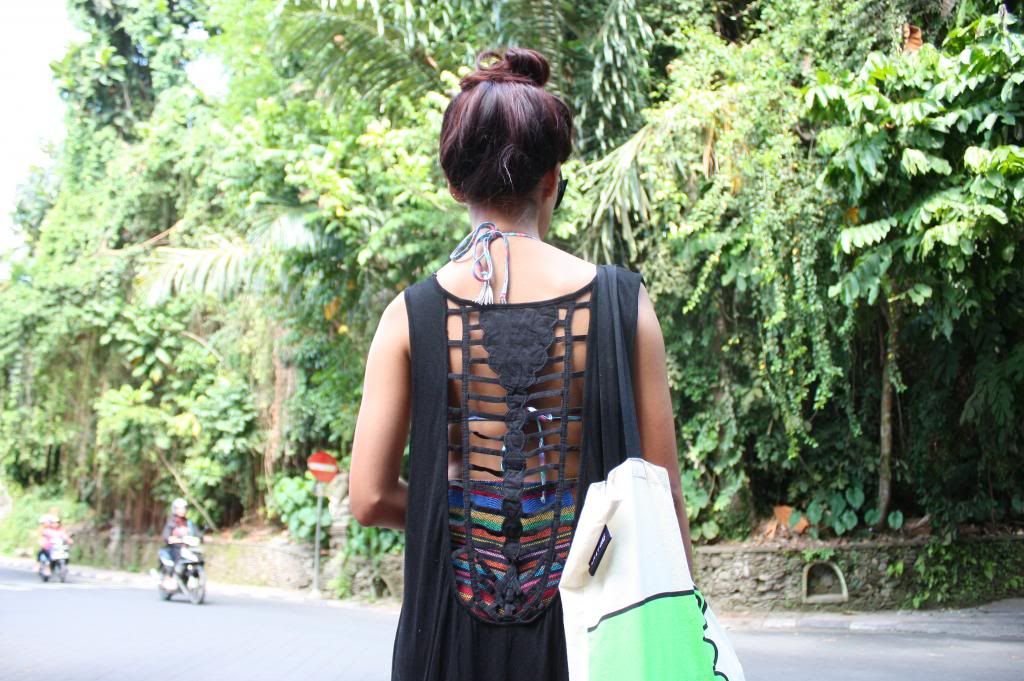 Ate at a recommended place by the friends who dined there before * our total bill came up to $12/person. We ordered quite a lot.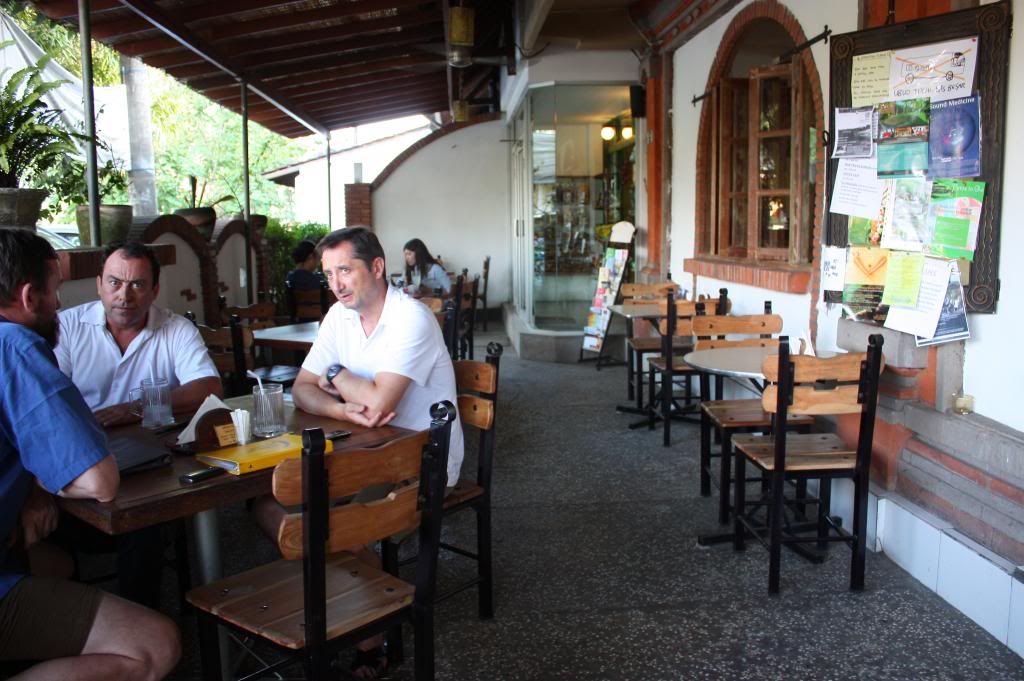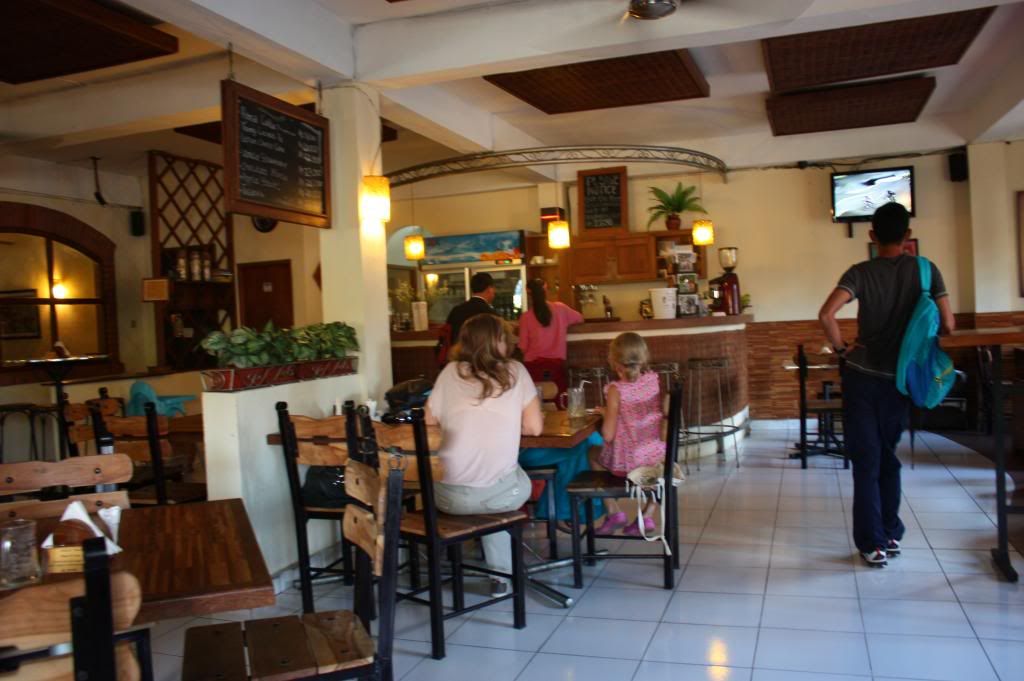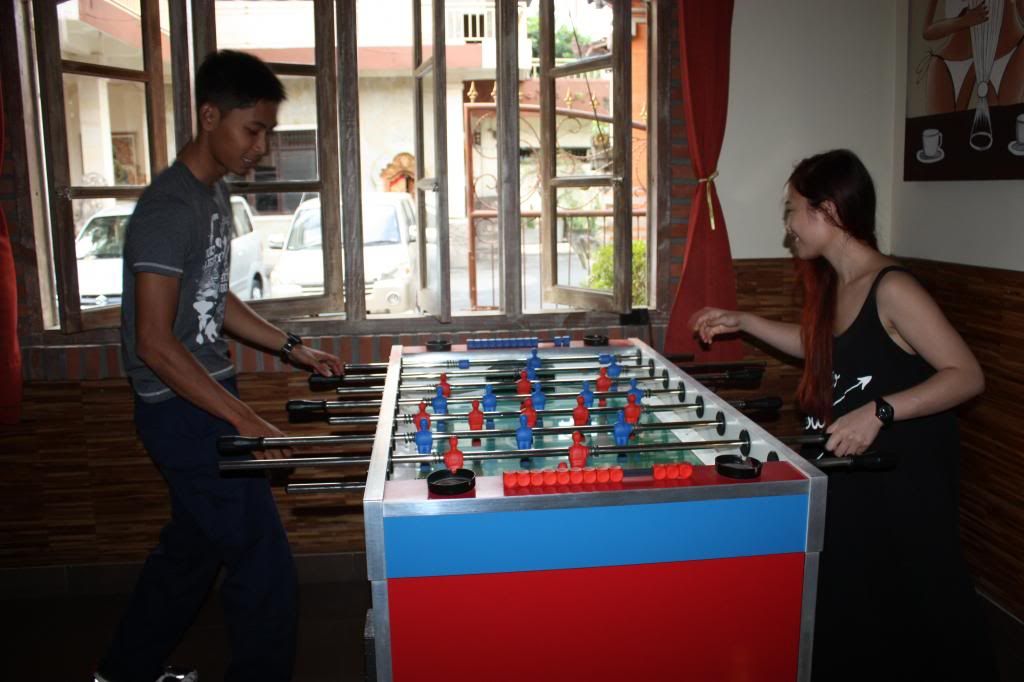 When R turned to me & said "Wanna play foosball? Come let's go play ok?"
I was stunned by his sudden initiative to ask me to play foosball & i agreed almost immediately! Hahaha.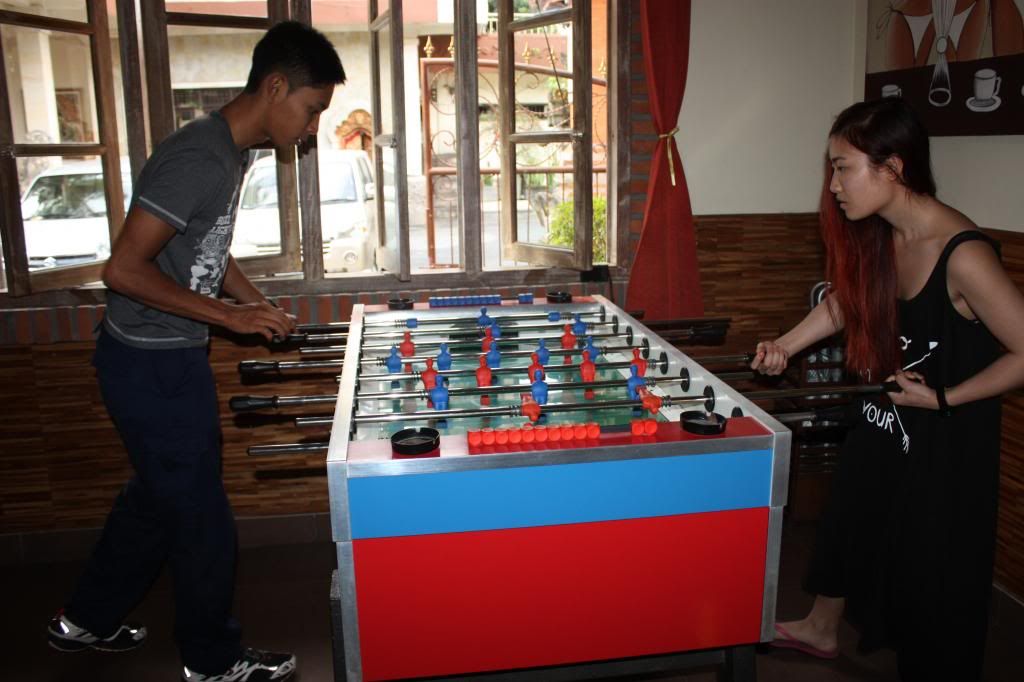 My serious face when i am playing games. R told me before i get v competitive even at the friendliest games where no competition is needed. I try not to now though.
Btw, i won R all 3 rounds! Hehe.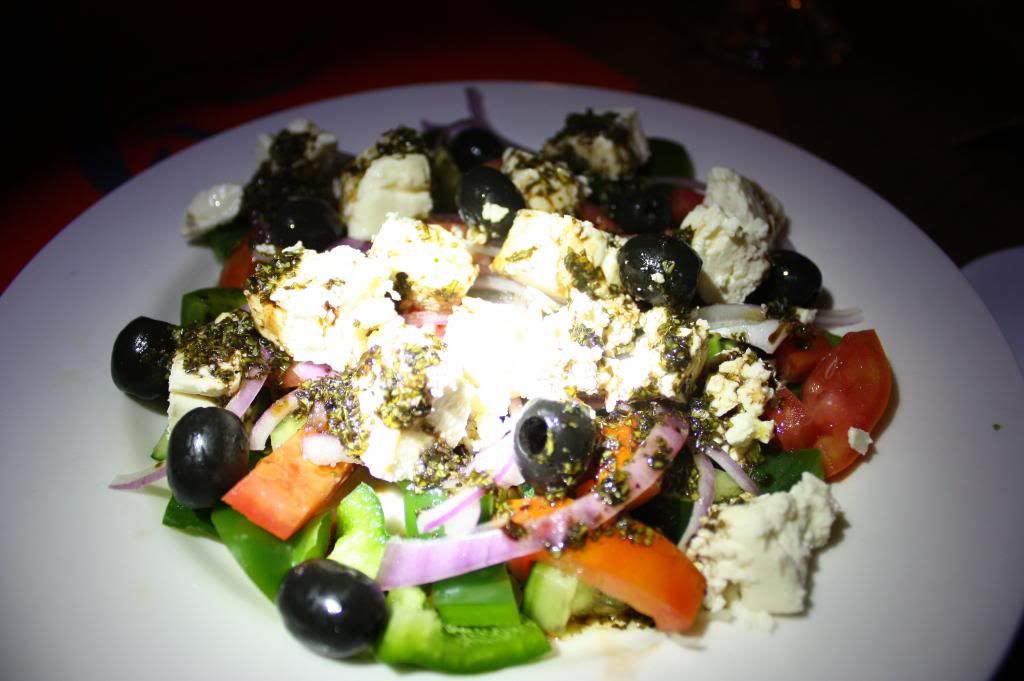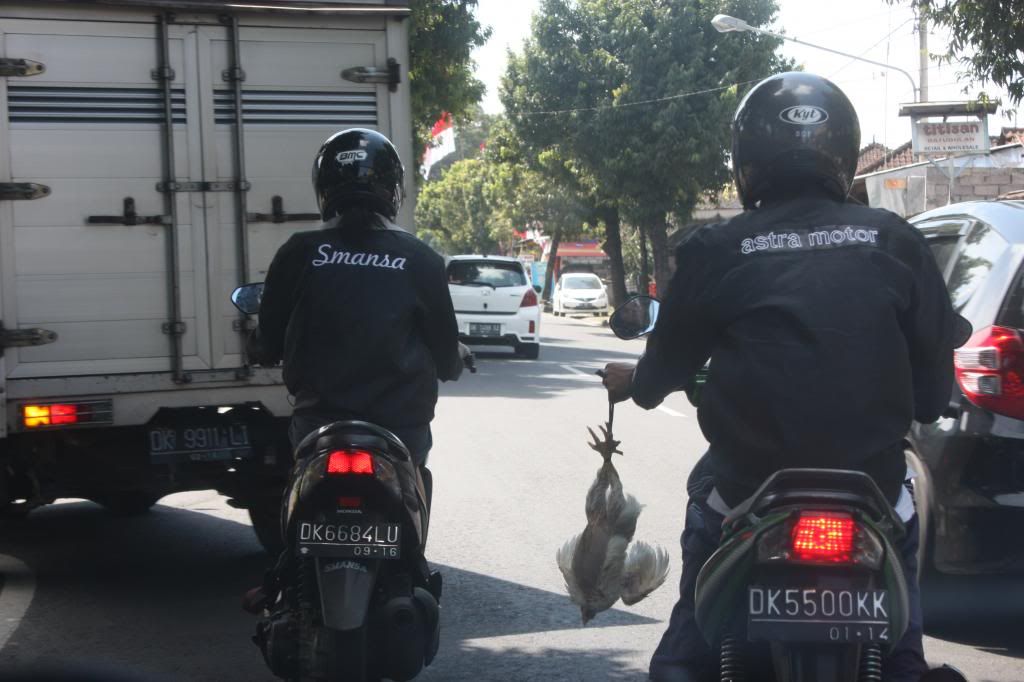 Saw this motorcyclist holding a LIVE chicken whilst riding its bike made me cringe. It's so sad to see how humans can be so cruel! At least put the poor chicken out of its misery first before hanging it upside down w it's legs tied & squeezing through traffic!! Don't let it suffer more than it alr is man.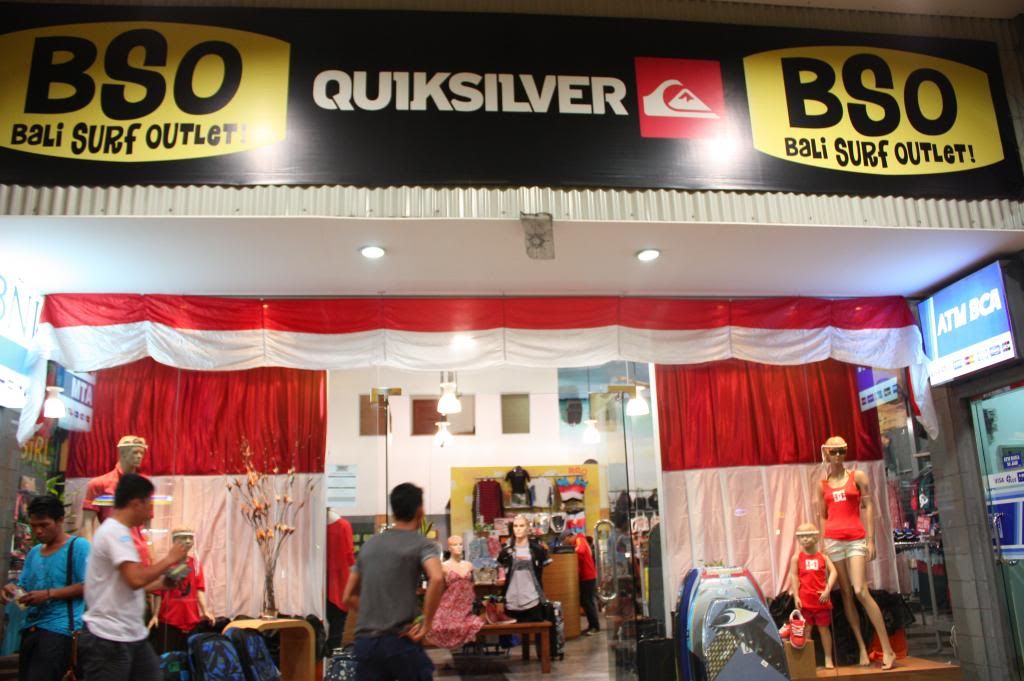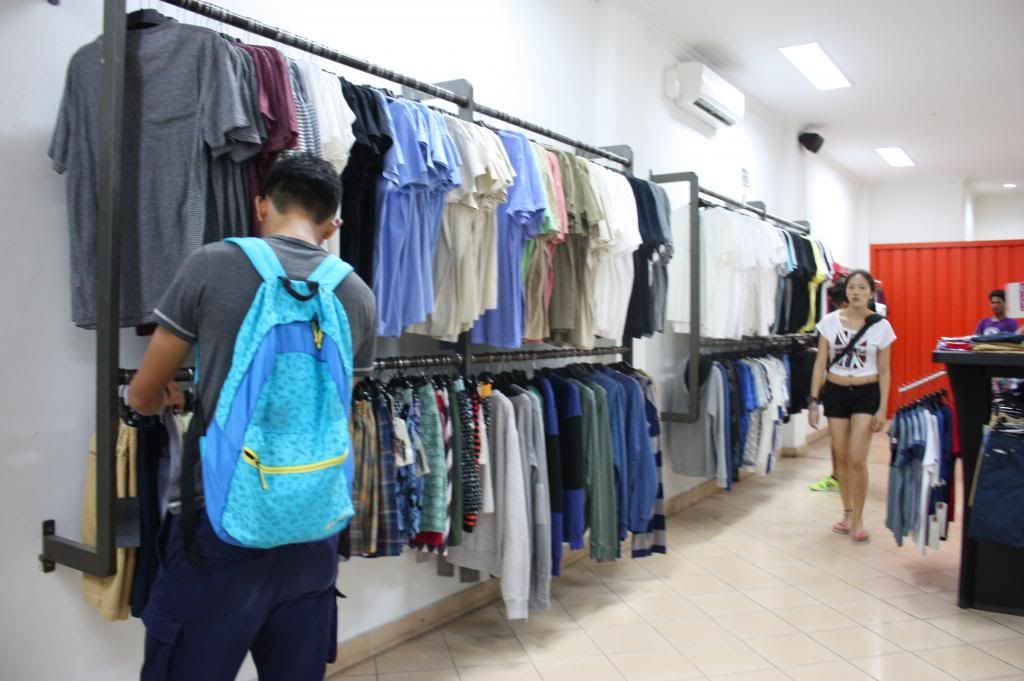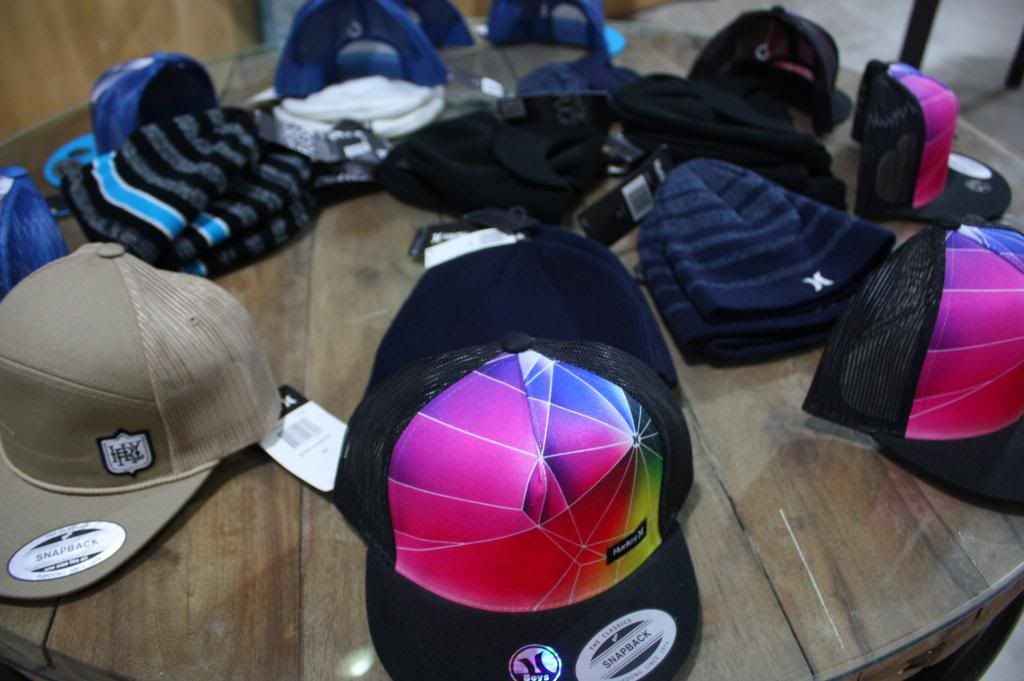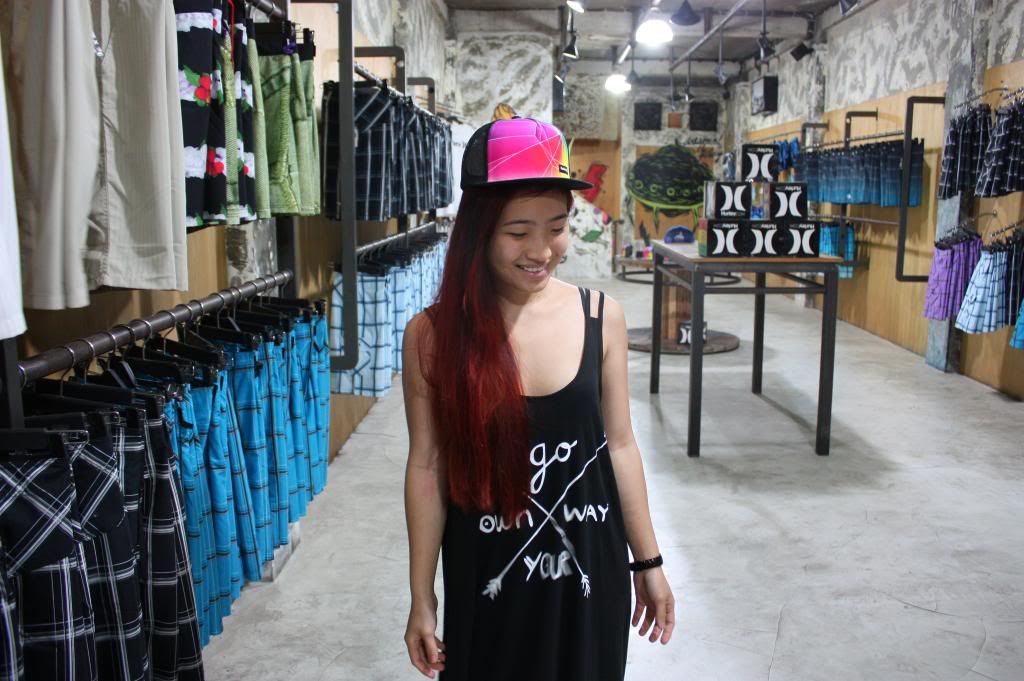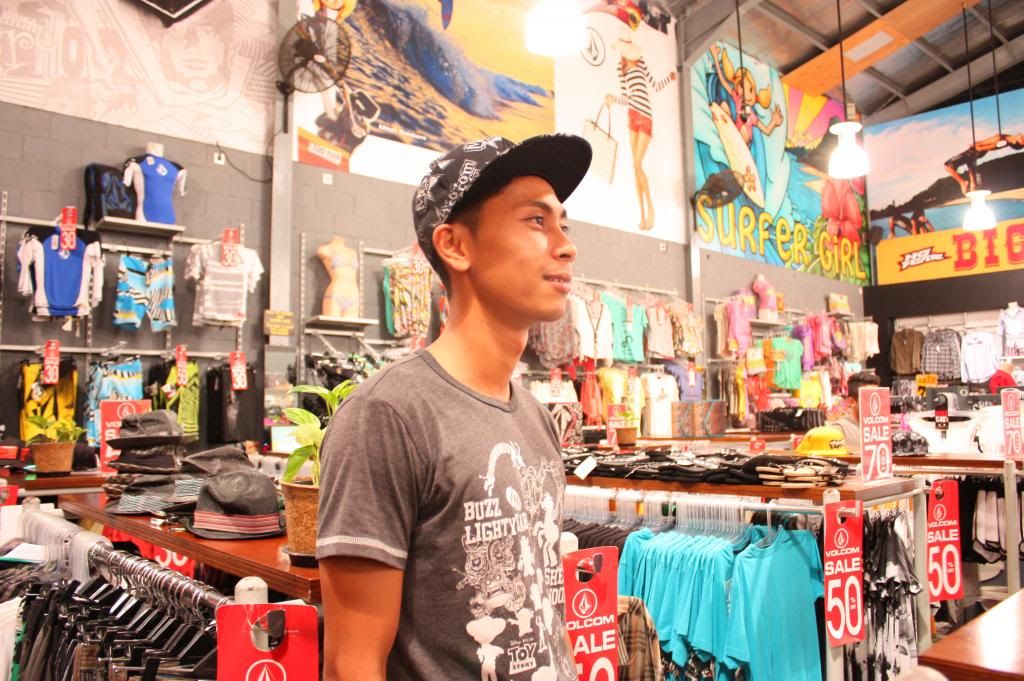 We shopped at the DFS which is completely diff from SG's. Shopped at the Factory outlets too.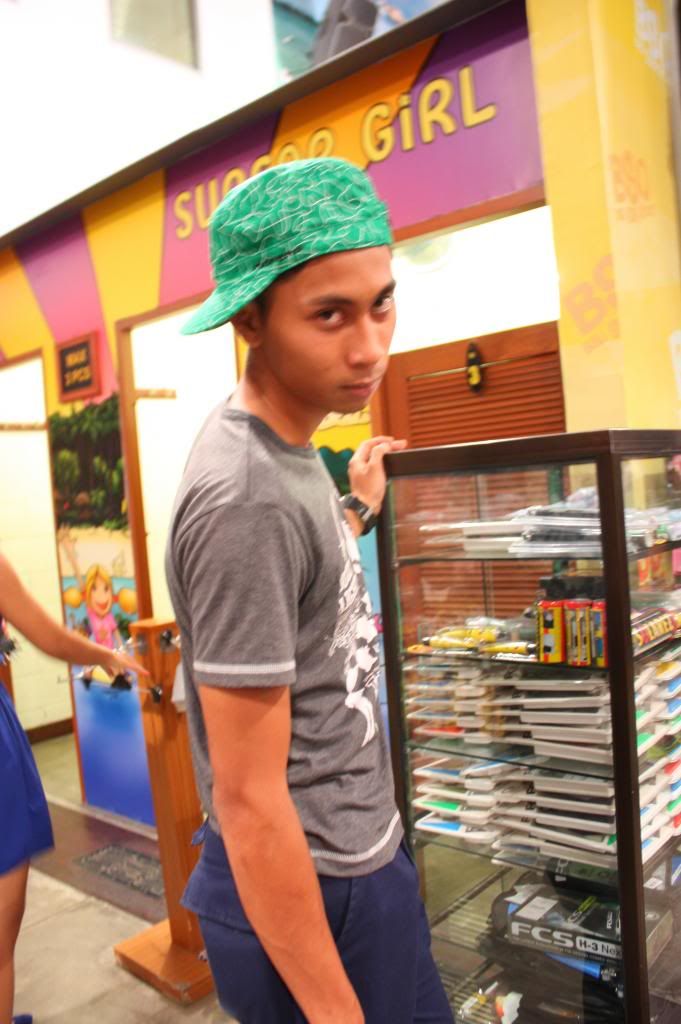 Hahahahaha because of R's ears tt are ever so obvious sticking out, he cnt wear caps! He makes his ears look bigger tan it alr is! It's js funny!
Here's a hilarious photo of R to end my Day 1 & 2 Bali post! & If u're having a bad day, perhaps this may cheer u up :)