Here's part 2 of my '
Picnic Food
' post! (: This will be a sandwich & roasted chicken food post. Trust me, your friends & family will be blown away if u cook this for your picnic! It's that good, for real! My friends loved loved LOVED the sandwiches & roasted chicken the most!
Ham & Cheese sandwich
1 Pkt Burger bread/Brioche bread
1 Pkt of Picnic ham (Alternatively, u can use halal ham like i did for my muslim friends)
1/2 Pkt Grated Parmesan Cheese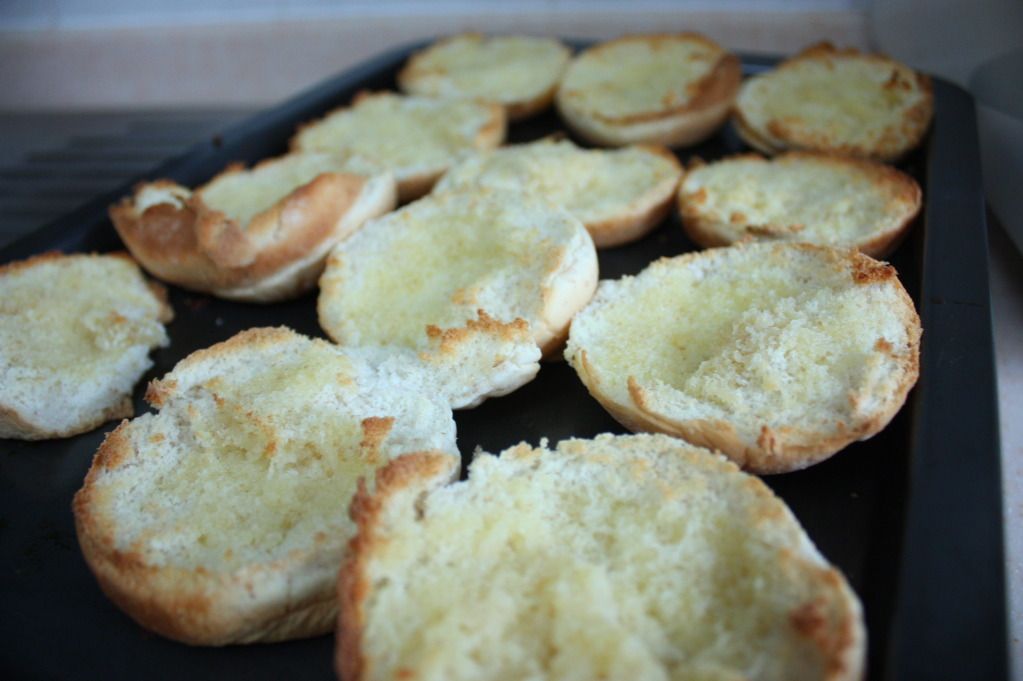 Spread the bread with butter & toast in the oven for about 3mins at 180C till it's golden brown.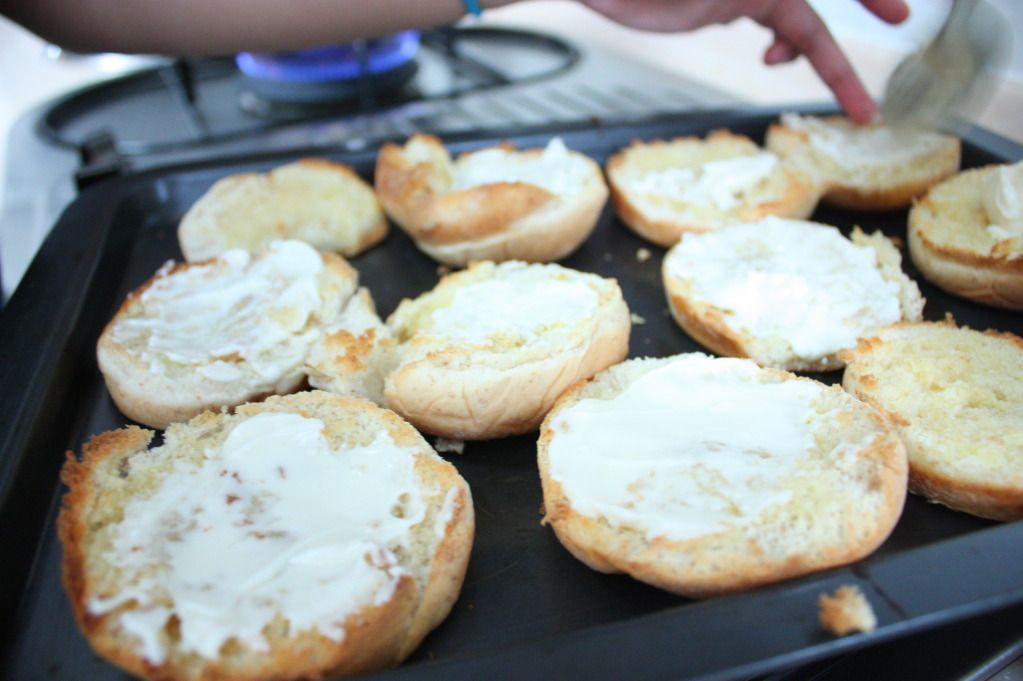 If you bought a block of cheese like i did, using a knife, slice the cheese in thin pieces of rectangles. (Don't waste your item grating the cheese!)
Place it back into the oven for another 4-5mins & take it out once the cheese has completely melted.
TIP: U don't wanna walk away when u put the sandwich in for the 2nd time for the cheese to melt as it may burn!
Lay the picnic ham onto the bread, followed by a generous amt of cheese! (If you're a cheese lover, pile on more! Cheese is gooooddd!)
Complete the sandwich by covering it with the over half of the bread!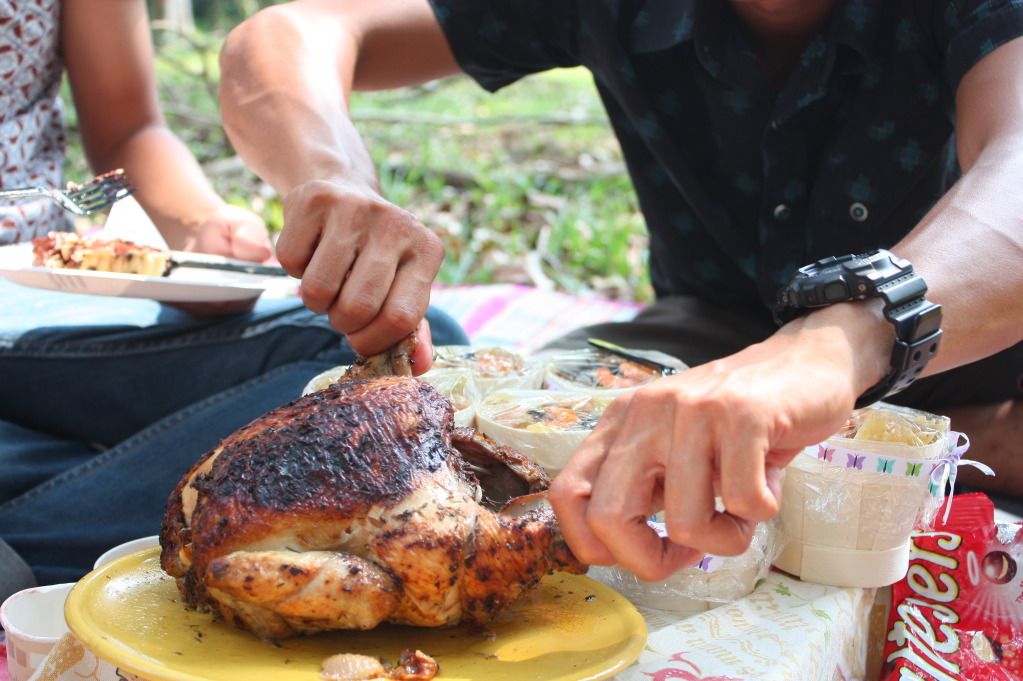 I bought Sakura chicken from Fairprice. Why Sakura chicken? 'Cause their chicken taste jucier, definitely tender & does not contain any hormone growth chemicals or antibiotics!
Cut off the head & legs of the chicken. (U can use it for chicken stock if you happen to be doing one so as not to waste it.)
Wash the insides of the chicken removing the blood.
Marinate the chicken in Rose wine for at least 6-8hrs & wash the chicken again aft soaking it in the marinate. (Optional)
I used these 2 herbs & spices to rub all over the chicken.
Season the chicken with salt & pepper too.
Stuff the insides of the chicken w 4 cloves of garlic, 3 sprigs of rosemary & a small bunch of thyme.
Slice 2 rectangle piece of butter & slide it underneath the skin of the chicken from the butt & the breast.
If you knw how to truss a chicken, please do so. Why is it impt to truss the chicken? Simply because it provides even cooking!
Watch this video on 'How to truss a chicken' if you have no idea how to! It's not difficult.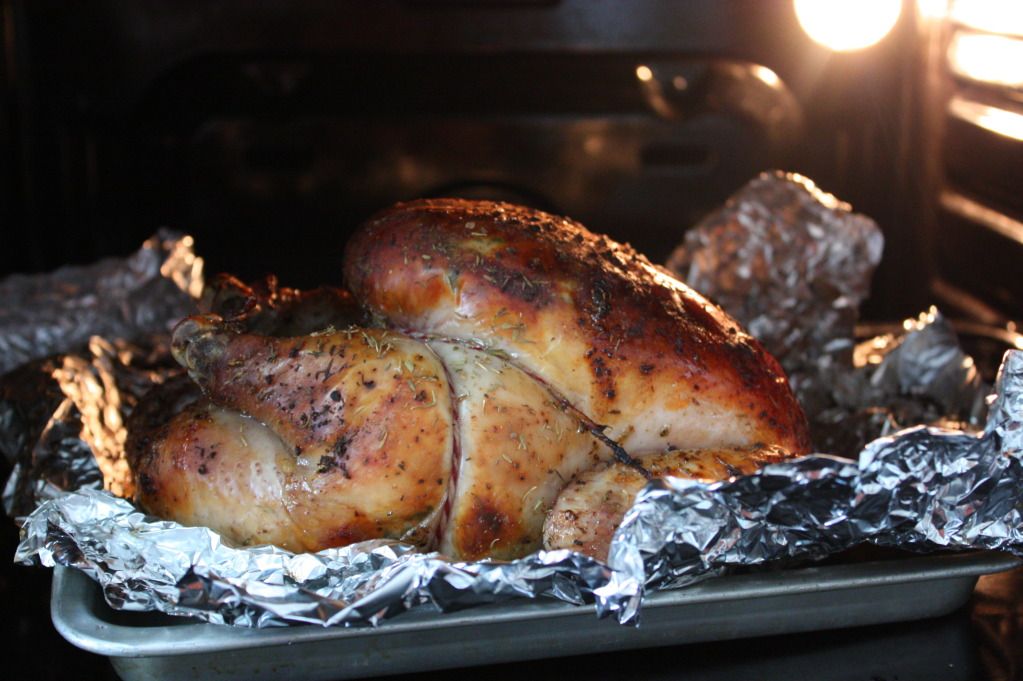 Pop it into the oven at 260C-280C for about 12-14mins until you see that the chicken has browned a lot & using a thermometer, the temp of the chicken should be around 45-50C.
After 12-14mins, lower the temperature to 180C & bake it for another 5-6mins. Once done, check if the chicken is thoroughly cooked by inserting the thermometer into the chicken & it shld read 60C & above!
Wrap the chicken in aluminum foil & it's waiting to be eaten by hungry people! (:
TIP: Ensure that your chicken is thoroughly cook as u don't wanna bring a half cooked chicken to a picnic! Tt'd be utterly embarrassing!
That's all for my picnic food post! I rly hope this helped some of you & those who don't knw how to cook, this is actually kinda easy to do. I have provided clear instructions & visuals for u to follow i hope (: Any further qns can be directed to my form spring or email, nadine_tay@live.com.sg!
Have a nice day (: